Best Seven Disney California Adventure Rides
Disney California Adventure is one of the most attractive theme parks in the United States. It is is worth a daylong visit. At Disney California Adventure Park, you will experience timeless entertainment with thrilling rides and seasonal celebrations. The park opened on February 8, 2001 and it is one of the two theme parks built at the Disneyland Resort complex. Here we will get reviews for best and must do rides of Disney California Adventure Park. We also discuss on rides for pregnant and toddlers.
Soarin' Over California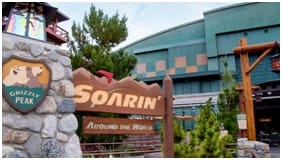 Soarin' Over California offers a breadth taking breezy airborne flight experience. You would feel the wind race across your face and thrill as you soar in majestic mountains, lush pine forests and other scenic wonders of California. It gives you feel of the region you are passing through such as if you are passing over groves, you can have typical smell of orange or salty ocean scent feel when you fly over pacific ocean. Then you get to see a massive hangar which features history of aircrafts.
After exploring the aviation history and tribute to great aviators, you make a way to a large IMAX theatre to discover the latest in open-air flight technology! The lights get dim to offer you an awesome experience as you gracefully ascend 40 feet high and are seated in front of an 80-foot projection dome to be taken through a simulated flight around the world.
And an Exhilarating and Epic Voyage sets off, you go to the Swiss Alps, and then make a way to towering sight to Disneyland fans. You are taken to explore great destinations of the world; you hope past the Great Pyramids of Egypt, sail across the spectacular Sydney Harbour, cruise near Mount Kilimanjaro and explore many other picturesque locales. Throughout the tour, you would feel you are flying on a hang-gliding ride along the horizon. The landing offers you an unforgettable experience.
It doesn't matter of what age you are; you feel joy and great thrill and pleasure on this aerial expedition filled with excitement and awe-inspiring vistas.
Grizzly River Run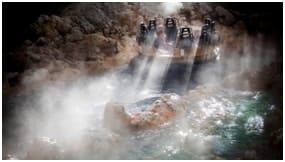 It is a thrilling white-water raft adventure ride that takes you roaring down a California river in the Sierra Nevada mountains. You will have an exciting experience of free-floating river ride up, down and through Grizzly Peak. You will go through a tranquil path brimming with towering pine trees and pass a series of age-old cliffs which reveal the fossilized remains of Ice Age inhabitants. And then you get the view of Grizzly Peak. Then you will proceed over a rocky bridge flanked by a rushing waterfall and then you are taken through a timber structure—the debarkation point for your wild river ride.
The adventure doesn't end here. Now you will hop inside a circular 8-person raft and drift along a lazy river which goes trough the rusty remnants of an old mining company. To add more thrill, you rumble along a 275-foot-long conveyor belt as make gradual ascent up the mountain. You will splash down amid a foaming spring and to a treacherous descent down Grizzly River.
Guardians of the Galaxy – Mission: BREAKOUT!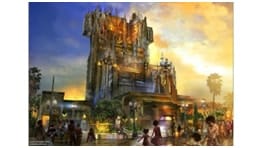 This is a thrilling free fall adventure. You are taken through some breathtaking fun starring rag-tag crew of heroes! You will meet Taneleer Tivan – a.k.a; the Collector who is keeper of the largest assemblage of flora and fauna and species from across the cosmos. His unique collection couldn't be found anywhere except the mining planet known as Knowhere. But here, it is brought to you through a great exhibition that features his latest prize possessions: The Guardians of the Galaxy themselves!
As you move ahead, the Collector's Fortress Awaits for you. The 'Gardens of the Galaxy' surrounds you with splendorous towering citadel, plants and trees from all over the known universe. You will find yourself in between interstellar artefacts and creatures including the Guardians of the Galaxy who is held captive in glass cases at the top of the fortress and dangling over an ominous abyss!
Then you go through a 'Big Thrill' Rescue Mission. You will join on a harrowing mission to rescue his fellow Guardians and unleash intergalactic mayhem on the way to the top of the fortress to the bottom offering you hair raising experience along with awesome mixtape songs!
The ride showcases all-new special effects, music and appearances by popular characters and thrilling sequences with a free-fall sensation is an adventure you must not miss.
Big Thunder Mountain Railroad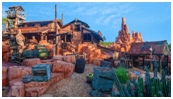 Big Thunder Mountain Railroad is the Wildest Ride in the Wilderness. You streak through a legendary gold-mining town riding a rollicking runaway mine train. You will venture inside a barren mountain amid rugged bedrock and desert cactus on the way to a Big Thunder Mining Company. You go down to discover a mysterious 5-car locomotive waiting that takes you on a journey inside a mine shaft.
You hurl forward into a dark tunnel across a winding track taking sharp turns through canyons and caves darting through the ghost town of Big Thunder. You will land yourself under a booming waterfall and dodge a rumbling boulder from an unexpected landslide. Here you can see the remnants of an earthquake and local critters which include bats, opossum and a goat with a stick of dynamite in his mouth.
Radiator Springs Racers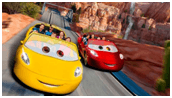 Radiator Springs Racers is the best thrilling ride that takes you through darkness. The ride provides you enhanced effects created by latest technology. You feel like taking the ride again and again and every time you will find something new. It is the anchor tenants of cars land. Radiator Springs Racers does the improbable and offers you the best ever thrilling experience and can be considered as the greatest Disney California Adventure.
Gadget's Go Coaster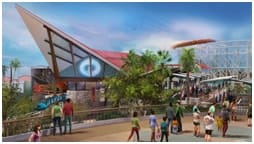 You feel tumble and turn on a rollercoaster ride. You climb abroad a designed "acorn train" which is designed intelligently. There are hollowed-out acorn seats which carry 2 passengers – one adult and one child on each seat. You will need to hold on tight as have an exhilarating speedy spin along a winding tubular track.It is a minute-long trip which takes you through Sparkle, race through an oversized comb, soup can and spool of thread; subsequently you will reach speeds of up to 22 mph. Then you will sail around Toon Lake and enjoy watching the panoramic views of Mickey's Toontown along the way. You may also spot a happy green frog streaming out of water directly over your head!
The Little Mermaid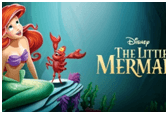 This takes you through an under water adventurous journey. You journey through the sea without getting wet! While sailing, you step into visit to favourite characters and enjoy unforgettable music.
The adventure starts when you enter an elegant Victorian Exposition-style building. You climb aboard a giant clam shell to find marvellous the ornate 86-foot-long, hand-painted mural. Then you will slowly descend to find your favourite characters such as Ariel, Prince Eric, Sebastian, Flounder, Scuttle and the wicked sea witch Ursula! You will visit memorable places to enjoy magical moments.
There are many more attractions to enjoy and you will have unforgettable moments and thrills to relish forever!
More Related Queries:
Disney California Adventure must do rides review/ videos