Apple will Launch Its Two New iPhones – iPhone 7 and iPhone 7 Plus on October 7, 2016, with Range Starting at Rs. 60,000
Book iPhone 7 Plus Online: Many mobile manufacturing companies are competing with each other to produce smartphones that are budget friendly. These smartphones are in great demand. But still, there are many users who are ready to spend thousands on Smartphones. There are many people who wait for iPhones launched by Apple and are ready to spend thousands of rupees for it. There's good news for such people. Apple has launched its latest smartphones iPhone 7 and iPhone 7 plus. Now you can do iPhone 7 pre-booking in India at Apple online store India.
The new smartphones iPhone 7 and iPhone 7 plus were launched at the Bill Graham Civic in San Francisco. At the launch, Tim Cook said, "We have created the world's most advanced smartphone – the best iPhone we have ever created. This is iPhone 7."
The pre-order for iPhone 7 and iPhone 7 plus starts on September 9, 2016, and will go on sale from September 16. For now, the new iPhones are not launched in India but Apple has already declared its launch in India soon. Both the iPhones will go on sale from October 7, 2016. The company has not revealed the price of iPhones but has declared that the starting range will be Rs. 60,000.
The new iPhones will be available in different colour options like Gold, Silver, Rose and Black and in different storage variants like 128 GB and 256GB.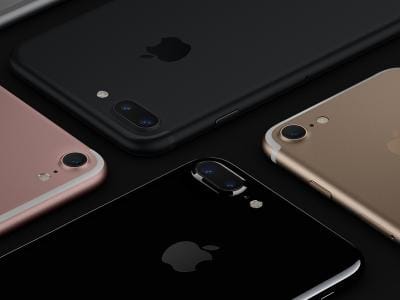 Disappointing fact about the new iPhones is that Apple has almost not made any change in the external design of its iPhone. This is being done for the continuous third year. However, there are few changes that are important while few of them are controversial too. One of the biggest change is the absence of headphone jack in both the models.
Apple has been able to fit both the new models with a single lightening port. iPhone 7 and iPhone 7 plus seems to be the most durable iPhones Apple has created till date. There has been an addition of IP67 dust and water resistance for the first time. That means now your iPhones are safe even if it gets submerged in one meter of water for as long as 30 minutes.
The physical home button is replaced with a touch-sensitive surface in both the models. This adds to the durability of both the iPhones more. Antenna bands are removed from the back of the phone and only are seen at the top and bottom edges.
iPhone 7 is 138.3 x 67.1 x 7.1 mm (5.44 x 2.64 x 0.28 in) and 138 g (4.87 oz) and iPhone 7 Plus – 158.2 x 77.9 x 7.3 mm (6.23 x 3.07 x 0.29 in) and 188 g (6.63 oz). Both the iPhone 7 and iPhone 7 Plus, now has dual speakers for the first time.
iPhone 7 has a 4.7-inch 3D touch display whereas iPhone 7 plus has 5.5 inch Retina HD display which too comes with 3D touch. Both new iPhones have new quad-core Apple A10 Fusion processor. As claimed by the company this is faster by 40% as compared to A9.
Talking about the camera iPhone 7 has 12MP iSight camera that has 6 element lens, high-speed sensor, and support for 4K video recording. It also has LED two-tone flash. iPhone 7 plus has two 12MP rear cameras.
Facetime cameras in both iPhones are 7MP. Both iPhones use a Taptic engine. This gives a better response.
A whole new range of accessories for new iPhones will also be launched. There will be silicone cases starting at Rs. 2,900, a smart battery case for iPhone 7 at Rs. 8900 in white and black colour and lightning docks worth Rs. 3,700.
Most Searching Terms:
iPhone 7 Pre Booking India
Book iPhone 7 Plus Online