Khali hospitalized due to severe head injury during a fight in Haldwani
Dalip Singh Rana, who is better known as 'The Great Khali', has been hospitalized due to severe head injury on 25th February. The Great Khali was reportedly beaten by three Canadian wrestlers during pro wrestling match in Haldwani, Uttarakhand. Watch real footage for Khali vs BrodySteele wrestling match video of 25th February 2016.
Khali is former WWE wrestler from India and won 2007 heavyweight championship.
According to the reports, Khali was Promoting his wrestling competition named Continental Wrestling Entertainment in Haldwani. The 44-year-old Khali was fighting with BrodySteel, the Canadian wrestler at Rajiv Gandhi International Stadium, Guala  Par. During this fight, two other wrestlers named Mike Knox and Apollo entered the ring and all three started beating Khali with the chairs.
Khali vs 3 Canadian Wrestlers Fight Video: Wrestling Match in Haldwani – 25/02/2016



Khali started bleeding badly on the stage and was rushed to the hospital and admitted to ICU. He got seven head stitches following a head fracture in Haldwani hospital. Khali also complained pain in chest and back pain. But as the hospital did not have sufficient facilities Khali was then airlifted and taken to the Max hospital in Dehradun.
The doctors assume that Khali has suffered serious chest injuries too. But the nature of the injury is still unknown. Series of tests are being conducted to know whether Khali has suffered chest injuries and to what extent.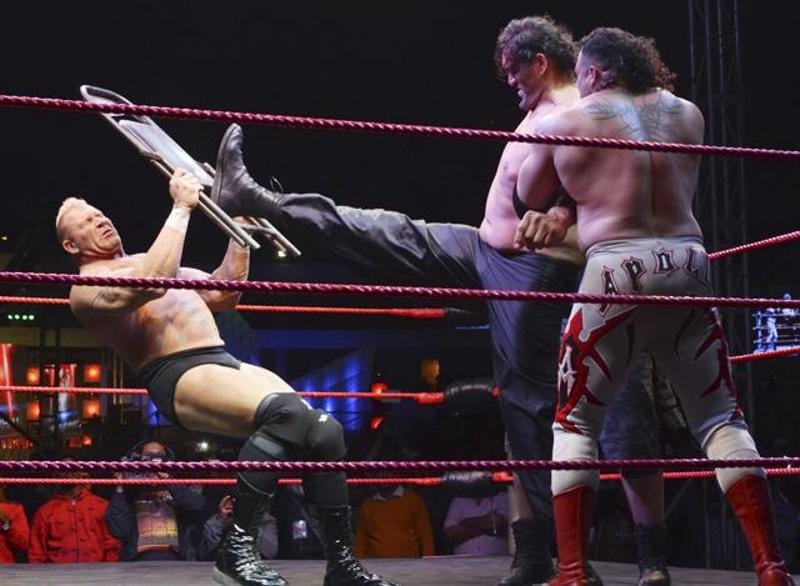 Surender Rana, Khali's younger brother, said that Khali is better now and has been kept in the hospital for further observation.
The former Punjab policeman, Khali, again has a fight in the ring on 28th February but his presence depends on his recovery. But sources said that even if Khali fails to participate due to his injury the event will continue.
More Searching Terms:
Khali vs BrodySteel Video