Ways for Payment of Synchrony Bank Bill
Synchrony Bank Bill Pay Login: Everyone doesn't have an idea about the GE Capital. It stands for the General Electric. It's the financial services unit of American conglomerate General Electric. In the year 2014 GE Capital spin off its North American consumer finance division and it is now known as Synchrony Financial. It provides services for commercial lending & leasing, entertainment, real estate, media, Aviation, communication, etc.
Synchrony Bank is the subsidy of Synchrony Financial. It provides banking products and services such as deposits, savings account, individual retirement account, money market accounts, etc. There are various modes for the payment of bank bill such as online payment, pay by phone, etc. All models are briefly described below. You just have to understand all terms and can make bill payment easily.
Official Website of Synchrony Financial: https://www.synchronyfinancial.com/
Official Website of Synchrony Bank: https://www.mysynchrony.com
Pay by Phone: 1-866-419-4096
Address:
Synchrony Financial
777 Long Ridge Road,
Building "B"
Stamford,
CT 06927
Here are instructions were given to make payment of Synchrony Bank bill: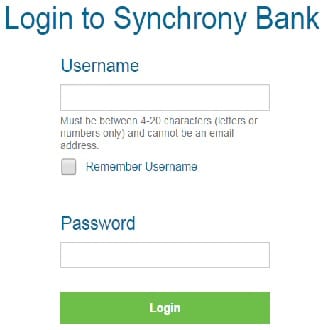 a) How to make online payment of Synchrony Bank bill?
Many people prefer online payment of their Synchrony Bank bill. You can easily pay your bill just by following the few steps as provided below:
To make payment online first you have to register to create an online account on https://www.mysynchrony.com
Thereafter clink on the link 'REGISTER' on the left side of the homepage.
Enter your account number, social security number and date of birth and click on the button 'NEXT'.
Now you can review your account and see an online profile.
Thereafter log in with your with your User ID and password you have created.
There is a link provided named 'Quick Link'. Find an option of payment there. Fill all the details very carefully like an amount of the bill, date and source.
Then click on 'Submit Payment for Review'. If you are sure that all details are correct then click on the button 'Submit'.
You can see a confirmation screen which shows you a confirmation number.
Whenever you access your account you will receive a confirmation message by email. It is the safety feature of your online account.
b) How to make payment by Phone?
If you want to make Synchrony Bank bill by phone you are required to call general customer service number at 1-866-419-4096. If you want more details you can visit the official website as mentioned above.
Conclusion:
At the end, it can be said that customers of Synchrony Bank can make payment of their bills as they prefer. Just follow the instructions as provided above and pay your bills before due date. If you want more information you can log on to the website https://www.synchronyfinancial.com or https://www.mysynchrony.com
Most Searching Terms:
Synchrony Bank Bill Pay Login