Uri, Jammu and Kashmir Wiki – Uri attack September 2016 Details
Uri Wiki: India witnessed one of the deadliest attacks that targeted security forces in Kashmir in last two decades. Four heavily armed terrorists attacked in the town of Uri in the Jammu and Kashmir state. The attack took place on 18th September 2016.
The attack took place early morning at 5:30 a.m. on Indian Army Brigade Headquarters located in the town of Uri. The attackers are said to hit around 17 grenades in 3 minutes. The operation went on for several hours. The base camp with tents caught fire and 13-14 army men were killed. After around a battle of six hours, all the four terrorists were also killed.
In an attack, other 19 to 30 soldiers were injured. The martyrs were mainly from 10 Dogra and 6 Bihar regiments. One of the injured soldiers died in the hospital on 19th September. The total army casualties were 18 as on 19th September.
There was troop shifting going on in the base camp. 10 Dogra regiment was being replaced by 6 Bihar regiment. Hence the 6 Bihar regiment were housed in tents. These tents were non-fire retardants. Attackers came in with full information and plan and knew exactly where to attack. Due to non-fire retardant tents, the casualties increased as it caught fire easily.
What was Recovered from Terrorists?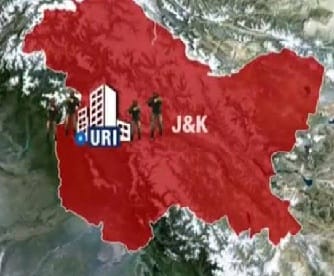 The army recovered a map from the dead terrorist that had detail plan and markings done in Pashtun language.
Four under barrel grenade launchers, four AK-47 rifles and ammunitions were also recovered.
Ranbir Singh, Lieutenant General said that they have evidence that proves the attackers were from an Islamist militant group of Pakistan called Jaish-e-Mohammad. He also added that the attackers used incendiary ammunition to set tents on fire. This type of material was used for the first time in attacks.
A team from the National Investigation Agency has been dispatched to probe into the incident.
According to the reports, it is been told that Intelligence Bureau had already informed about a terrorist attack, before- hand. They stated that three fidayeen groups were sent from Pakistan-administered Kashmir.
One squad attacked Uri, another was engaged by security forces in Poonch and third is believed to move to target Srinagar highway.
How did India Reacted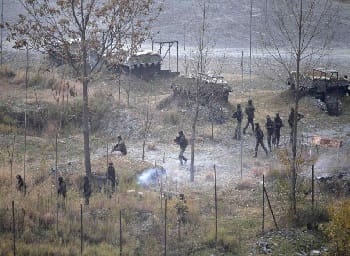 Prime Minister NarendraModi and other members of his cabinet condemned the attack.
An emergency meeting was undertaken by Home Minister Rajnath Singh to discuss the steps to control the condition. He said, "Pakistan is a terrorist state and it should be identified and isolated as such." He further added that attackers involved were "highly trained, heavily armed and specially equipped."
Rajnath Singh said that he was "deeply disappointed with Pakistan's continued and direct support to terrorism and terrorist groups."
Pakistan's Ministry of Foreign Affairs responded to India's allegation with a swift denial. Spokesman NafeesZakaria, Spokesperson of Pakistan Ministry said: "This is a very irresponsible and baseless allegation that he has levelled against Pakistan which we outrightly reject."
Rajnath Singh postponed his visit to Russia and United States to deal with the situation.
Indian Army Chief Dalbir Singh and Defence Minister ManoharParriker went to Kashmir to review the condition and operations soon after the attack.
Army was instructed to take strict action against the culprits by the Defence minister who also stated that the death of soldiers will not go in vain.
Home Minister Rajnath Singh accused Pakistan of continuous and direct support to terrorism and terrorist groups. He also called Pakistan a terrorist state and said that it should be isolated.
SubhashDamre, Minister of state for Defence said that the entire nation was traumatised over the death of 17 soldiers. He also added that the entire nation is united in this hour of grief and PM, Home Minister and Defence Minister wants that Pakistan should be responded to the action.
Vijay Kumar Singh, former Army chief and Minister of External Affairs of state, said that India will give a befitting reply to the attack. He also called for investigation looking for the reasons which led to the attack and also asked the army to plan a proper response with a cool mind.
Many other Indian politicians, cricketers and film stars and common men too condemned the attack. Indian National Congress said that now there is no scope for positive dialogue with Pakistan.
India also called United Nations Human Rights Council asking Pakistan to stop cross-border infiltration and deactivate the infrastructure of terrorism.
How did Other Nations Reacted?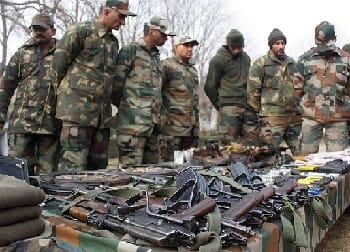 United Nations:- The spokesperson of Banki Moon, the secretary of the United Nations, said on behalf of Ban-ki Moon that he condemn the attack and express deep sympathy for the family of the martyrs. He wished a speedy recovery to the injured soldiers and hoped that the planners will be soon identified.
Pakistan :- Foreign Ministry rejected India's accusation that Pakistan planned the attack. It also said that by accusing Pakistan, India is trying to remove focus from Kashmir problem.
Raheel Sharif, Army Chief, Pakistan accused that India was Propagating a hostile narrative and said that Pakistan army is prepared to respond to a direct or indirect threat.
China :- China also condemned the attack and expressed sympathy towards the family of martyrs. It also said that India and Pakistan should have a talk regarding the problems and to solve them.
Afghanistan:- Shaida Mohammad Abdali, Afghan's Ambassador to India also condemned the attack and said that his country will support NarendraModi in actions against the culprit. He said "We fully support PM Modi's call for strong and firm action against those who terrorise people and those who use terrorism as an instrument of foreign policy; seeing this for many years. Whoever uses terrorism shouldn't only be isolated but also held accountable."
Bangladesh :- Syed Muazzem, Bangladesh's High Commissioner to India also condemned the attack and stated: "As a freedom fighter of 1971, we fought alongside the Indians during our war of liberation, I want the spirit of 1971 to remain in our relations".
France :- France condemned the attack and stated, "France condemns in the firmest terms the terrible terrorist attack committed on 18 September against an Indian Army camp in the Kashmir region. It expresses its condolences to the families of the 17 Indian soldiers killed in this attack. France stands beside India in the struggle against terrorism. It calls on each state to effectively fight against terrorist groups operating on its territory or from its territory against other countries. France reaffirms its commitment to a peaceful and structured settlement of differences in the region of Kashmir."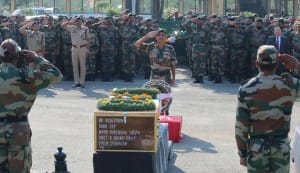 Russia :- Russia also condemned the attack and said that it is a matter of concern for it as the army base was attacked by Pakistan as per New Delhi. It cancelled the joint military exercise with Pakistan.
United Kingdom :- Condemning the attack, Boris Johnson, The Foreign Secretary said "The UK strongly condemns this morning's terrorist attack in Indian-administered Kashmir. I offer my deepest condolences to the victims and their families and friends. The UK condemns all forms of terrorism, and stands shoulder to shoulder with India in the fight against terrorism, and in bringing the perpetrators to justice."
United States :- the United States condemned the attack saying "The United States strongly condemns the terrorist attack on an Indian army base in Kashmir during the early morning of September 18. We extend our condolences to the victims and their families. The United States is committed to our strong partnership with the Indian government to combat terrorism."
Other nations like Venezuela and UAE too condemned the attack. Every nation wanted to India and Pakistan to have a peaceful talk about the issue. Strong nations like Germany, Russia, France and others are all in support of India.
Germany said " Germany stands firmly on side of India in the fight against terrorism. Every country has a responsibility to take decisive action against terrorism which emanates from its own territory.
Indian Administered Kashmir is under unrest from past two months. This all happened after BurhanWani, the commander of a separatist group was killed by Indian Army. The incident was described as one of the main success but angry mob attacked police stations and posts and even government buildings. Since then a large part of that region is locked down and curfew has been levied.
A team from the National Investigation Agency will now investigate the Uri attack.
There has been a global condemnation of the Uri attack and Pakistan's wish to capitalise the unrest in Kashmir seems to be ineffective.
Most Searching Terms:
Uri Attack India Response/ Wiki