Xiaomi Launches New Smart Washing Machine – Mi Washing Machine with Special Features
Xiaomi is a well- known Chinese electronic company. It designs, develops and sells smartphones, laptops, and other electronics. Up till now, it has launched many smartphones, tablets, Mi Notebook Air, Mi rice cooker and so. This time, it has come up with smart washing machine named Mi Washing Machine. Xiaomi has partnered with Minij for the washing machine. Minij is a Chinese manufacture of refrigerator and washing machines. Register for Xiaomi's Mi Washing Machine online.
The new washing Machine is launched at 1,499 Yuan which is Rs. 15,000.The machine is very small and portable. It weighs around 34kgs with a capacity of 2.8kgs. The machine is 500mm wide and extends 630mm from the ground with a thickness of 415mm. Like other machines Mi machine too uses the drum mechanism and comes with front load machine. Another important feature is child lock facility. The small and compact design make it more energy efficient.
The machine has Amotec Kore DD inverter motor and Suspa shock absorbers. These shock absorbers are provided by the German company that supplies shocks to Mercedes-Benz E-class.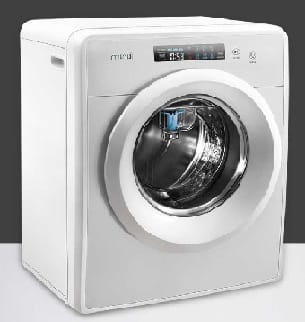 Another feature that distinguishes the new Mi washing machine from others is the Cooking Wash function. With the help of this function, water warms up to 95 degree Celsius in the washing drum. This helps to sterilize the clothes by killing bacteria at high temperature.
You can control the new machine with the help of Mi app. With the help of this app, you can select one out of fourteen modes to wash your clothes, directly from your smartphone.
There has been no announcement about the launch of this new Mi smart machine in India. But the new smart washing machine is sure to bring revolution in the field of a washing machine. With the help of this new smart washing machine, washing clothes will become easier and safe as it also sterilizes clothes better due to its cooking wash function.
Most Searching Terms:
Xiaomi's Mi Washing Machine