Amazon India Launches its Pantry Services in Hyderabad Location
Now Amazon India has launched Amazon Pantry Service in Hyderabad and some location of Bangalore. It is an online supermarket for best grocery and household needs in your routine life. Amazon Pantry gives all delivery next day with very low prices. Many customers asking for Amazon Pantry address in Hyderabad, but this is online service. So you don't need Amazon Pantry's address. You may contact on Amazon India's customer care number. Note down the toll-free number is 1800 3000 9009.
Amazon launched its subscription service- Amazon Prime in India in July. Now Amazon India has launched pantry service for people of Hyderabad. Customers could now shop around 4000 daily essentials from there. But for now, only people of Hyderabad will get this facility. The selected items by the customers will be delivered by next day. Unlike the US, where only the prime customers were made the Pantry available, here in Hyderabad, the pantry service will be available to all.
Delivery charge for Amazon Pantry Order
Amazon Pantry Prime members will not be charged for any delivery for Pantry orders shipping. But normal customer will be charged for a flat 20 delivery fee for each box. This shipping boxes are large and can hold maximum 15 kg or 3 cubic feet of products.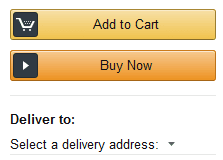 In a statement, the company said, "Using Amazon Pantry, customers can now shop for over 4,000 everyday essentials such as groceries and household products on the website and mobile, fill a virtual box of items and have them conveniently delivered to their doorsteps the following day." It also added that"Amazon Pantry makes it convenient for customers to stock-up for a basket of frequently purchased items while also increasing savings when compared to shopping at supermarkets," it added.
The Amazon Pantry service, as mentioned earlier is available to all but the prime customers will not have to pay any delivery charges as a promotional offer. Regular customers will have to pay Rs. 20 delivery charges per box. This too is promotional offer otherwise, the delivery charges are Rs. 49. These boxes can hold up to 15Kg of products.When the customers fill in their basket, there is a percentage meter that shows how much of the box is filled. Once the box reaches its maximum range, a second box starts filling itself automatically.
On the launch, Mr. SaurabhSrivastava, Category Leader FMCG of Amazon India said, "We are very excited to launch Amazon Pantry for customers in Hyderabad. Amazon Pantry makes it convenient for customers to shop for grocery and household products as it saves time spent in travel, parking, queuing and lugging heavy bags from a store to the car and from there to a customer's home. We are confident that as customers in Hyderabad get familiar with the Pantry experience, they will be delighted by the ease, convenience and the fast delivery benefits that it offers."
Amazon has not announced the launch of Amazon Pantry in other cities till now. But we hope, it will soon come up with Pantries in other cities too. This type of shopping will save time as one will not have to go to supermarkets and will save money too. We will have to wait to see the response, Amazon Pantry gets in India.
Most Searching Terms:
Shop Amazon Pantry/ Placing My Order/ Delivery Charge
Amazon Pantry Present Location Address in Hyderabad and Bangalore