Phoneclaim/Verizon
PhoneClaim/Verizon Tracking: Asurion is a privately held multinational insurance company that offers device protection and support services for consumer electronics items such as smartphones, tablets, TV, computers, satellite receivers and jewelry, and much more. Here we discuss; how to get an Asurion phone insurance claim for Verizon, Sprint, or AT&T mobile? We also check Asurion Phoneclaim Verizon phone number and claim to track steps and status.
Phoneclaim/Verizon Phone Number
If you want a claim form, contact detail, or Asurion Verizon claim phone number then go to https://www.asurion.com/about/contact-us/.
The company was established in 1995 and is headquartered in Nashville, Tennessee. The company has its presence in 14 countries across the world. Asurion is credited as the first company to offer an Accidental Damage from Handling (ADH) product to all the states.
Asurion provides comprehensive insurance coverage for your cell phone. It protects the phone against damage, malfunction, stealing, or loss. It also offers a replacement in case of any physical and water damage done. Asurion cell phone insurance claim is easy to process. This is a very trusted name in cell phone insurance and has provided coverage to more than 70 million so far.
Asurion deploys the latest technology and provides Asurion apps for various protection features. You can locate a missing phone through GPS or via alarm through device recovery alerts! You can backup your contacts, photos, and videos over Wi-Fi or a carrier network.
Asurion.com products are available for a majority of the carriers including AT & T, Sprint and Verizon, Cricket, Fido, and much more. Now let's check the steps to Asurion phone claim Verizon.
Asurion Phone Insurance Claim
You can make an Asurion cell phone insurance claim or track your claim online anytime. There is 24/7 support available. It is very simple to make the claim and it takes hardly a few minutes to do so.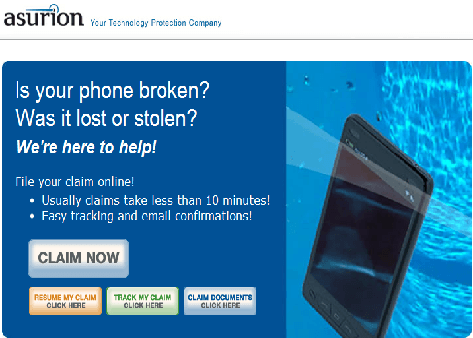 Go to the website at www.asurion.com.
Click on the "File or Track a Claim" tab displayed at the top right corner of the page.
A dialog box will be displayed, click on the icon for "Mobile Phone".
A new dialog box will be displayed with carrier options, select the carrier icon you are using. A new window will be displayed, click on "Ok, Take me There".
Click on "File a Claim" or "Resume a Claim" if you have already started filing a claim.
A new page will be displayed. Click on the "Let Us Start".
You have to provide your account information and details of what happened to your device, details of the device to be replaced, and shipping address. You will be asked to confirm the details.
Once all the details are provided and confirmed, you submit your claim.
Asurion is very quick in providing services and you can receive a replacement of your phone the very next day and are backed by one year warranty.
According to studies, 19 million phones are stolen or lost every year and there always remains a possibility that you are also one of the unlucky! You can protect your mobile with Asurion phone insurance coverage and stay worry-free from anything going wrong with your device.
Most Searching Terms: