Frequently Asked Questions on Weight Loss through Bariatric Surgery
There are many obese people who get upset with their high weight. But there is no need to worry. There is very easy way to lose your heavy weight and it is known as Bariatric Surgery. Here you may get a guide to finding best hospitals for bariatric surgery. This surgery is called as weight loss surgery. But the question is how does the Bariatric Surgery work? You may get your answer to your query about this surgery as the Frequently Asked Questions (FAQs) are given below.
What is Weight Loss (Bariatric) Surgery?
A weight loss surgery is a treatment taken by the obese people to lose their weights. Their weight is lost by reducing the size of their stomach or removing a portion of the stomach. The U.S. National Institute of Health recommends some criteria for the obese people for whom this surgery is suitable.
For whom the Weight Loss Surgery is Suitable?
Usually, the doctors recommend this surgery is not for all types of obese people. Surgery is only for those people who are:
At least 100 pounds overweight
With a Body Mass Index (BMI) of at least 40
With a Body Mass index (BMI) of 35 to 40 and having other serious health problem like diabetes
Failed to lose weight by adequate exercise and diet program
How much the Weight Loss Surgery Costs?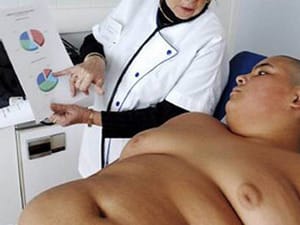 This weight loss surgery process costs start from the $ 15000 to $ 35000.
Will Insurance Cover the Cost of Weight Loss Surgery?
A surgery cost is categorized between $ 15000 to 3500o as it is difficult to cover the cost of the insurance. However, most of the insurance companies require documentation which includes patient's medical record as well as the past diet history and prior weight loss attempts. So it is advisable that try to collect as much as possible documents to submit with your insurance company.
How does this Surgery take Place?
Generally, there are two types of weight loss surgery. They are named as Restrictive surgery and Malabsorptive surgery. Restrictive surgery acts to reduce oral intake by limiting the volume of gastric. Malabsorptive surgery works by reducing the size of the stomach. It becomes effective by creating a physiological condition of malabsorption.
How many Days the Surgery takes to Recover?
Generally, it depends on the patient and surgery procedure. Many a time patient is eligible for discharging on the same day of the surgery. Some patients are required to stay for few days for the further treatment. Generally, patients may start their normal routine activities in a week after Restrictive Surgery. In the case of Malabsorptive Surgery, a patient may begin their routine schedule in 2 to 3 weeks.
How do I Choose Bariatric Surgeon?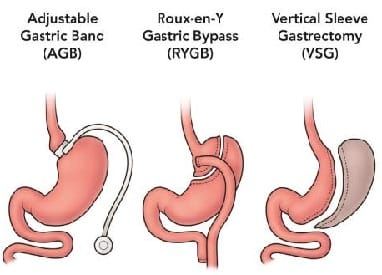 As it is known that the more experienced the surgeon in the specialist area the lower the risk of complications arise in the treatment or the risk of death as well. One of the best ways to find out the best surgeon is to ask about to your family members or friends or relatives or colleague. You may ask the people who have already taken the treatment of bariatric surgery and succeed in losing weight. They can give you proper guidelines. Sometimes many health centers or hospitals conduct the seminars for the people who want to lose their weights. You have to attend these seminars and ask the query to the specialists. You may get the answers to your doubts.
You should have to consider some important factors while choosing bariatric surgeon as prescribed below:
How many surgeries have been performed by the surgeon previously?
Whether a specialist board has been certified by the American Board of Surgery?
Whether a surgeon is the member of the American Society of Bariatric Surgeons?
Get the success report of the surgery which has been performed by the bariatric surgeons.
All points as mentioned above should be considered before you choosing the bariatric surgeon.
What are the risks of the bariatric surgery?
There are several risks associated with going through the bariatric surgery as mention below:
Nutritional vomiting
Hernias
Low blood sugar
Vomiting
Hair loss
Gallstones
Kidney stones
Ulcer
Nausea
It is rarely but sometimes typical types of complications arise after surgery like patient's death, blood clots in lungs, pneumonia, blood clots in legs or bleeding in the stool or black stool.
How much Weight might be Lost after Weight Loss Surgery?
Generally, it depends on the patient and the process which is followed by the surgery. In the case of gastric banding, a patient can lose on an average 50% of their excess weight. The result normally shows in during three to four years. In a case of gastric bypass surgery, people can weight their loss up to 70% of their excess weight. The weight loss of the people depends on their heights and other factors also.
What will a Lifestyle After Bariatric Surgery?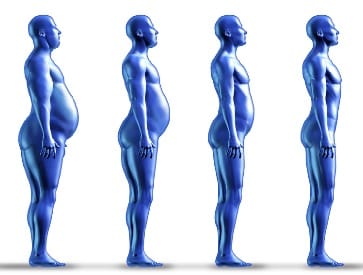 You must remember one thing weight loss surgery is not a cosmetic surgery. You have to commit to your long-term lifestyle changes like routine exercise, diet plan as it is necessary for the better success of the bariatric surgery. Many a time people regain their weight as they eat high calories food and soft meals like a milkshake or cold drinks or ice cream, etc.
After going through the bariatric surgery you should have to follow useful steps as to maintain your losing weight such as eat healthy food properly by chewing well and slowly. Eat the food with nutrition as recommended by your health care provider. Do exercise regularly. Once you begin weight loss you can easily all these things as per your wish and feel good. It's not a general thing to lose a significant amount of weight. You might be felt odd. Your outlook is also changed as you lose a significant amount of weight. But once you start to lose your weight it seems a good outlook.
Most Searching Terms:
Gastric Bypass Surgery
List of Best Bariatric Obesity Surgeons of India
Top 10 Obesity Surgeons in India/ USA/ UK
Bariatric Surgery for Severe Obesity/ Weight Loss