Now Buy Reliance Jio 4G SIM Card Free with Budget Friendly Reliance Smartphones
Buy Reliance Jio 4g Mobile with Free SimCard: We have been listening about 4G for quite some time now. Even the main feature that is highlighted in all the commercials of mobile operators nowadays is 4G. Reliance Jio 4G is also ready for tough competition with already existing services.
Reliance Jio 4G is as such, not available for commercial use in the market yet. For everyone Reliance, Jio will be available from October 2016. But if you still wish to buy the Reliance Jio 4G SIM card, it is possible. Yes, you heard it right. You can own the Reliance Jio 4G SIM card that's too with 3 months of free unlimited data and voice service. No, it's not some type of prank but as per the offer, one can own the new 4G SIM card, if you buy Reliance LYF handsets.
Before discussing Reliance Jio 4G, let us know why everyone is going crazy about 4G. This is the mobile phone technology's 4th generation. With the help of this services, it will be much quicker to surf web on your laptops, mobile, and tablets.4G networks will increase the download speed manifold. For instance, the music album that was taking 20 minutes to download will hardly take 3 minutes. It is much much faster than 3G.
Now let's talk about Reliance Jio 4G. When the speed was tested it surpassed all the competitors. In certain areas, the speed was double as compared to what other 4G service providers give. One can enjoy super fast internet 18-20Mbps downloading and 14-15 Mbps uploading speed with Reliance 4G. On the other hand, the LYF smartphones are available from prices as low as Rs. 2,999. On buying this LYF smartphone or from LYF Flame 8, Flame 3, Flame 4, Wind 3 etc one gets free Jio 4G SIM card.
The free Reliance Jio 4G offer is also available with Samsung Galaxy Note 7. The phone costs Rs. 59,990 and will be on sale in the market from 2nd September and onwards. According to rumors, the Reliance Jio 4G service will be open for other smartphones too. However, a company has not announced anything yet.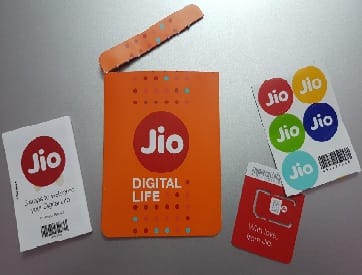 If you want Reliance Jio 4G SIM card and are low on budget and do not want to buy smartphones costing too much, you can opt from variety of comparatively cheaper LYF smartphones as mentioned below:
Reliance launched its new smartphones under four sub-brands namely Earth, the wind, water, and flame.
Flame 3, Flame 4, Flame 5 and Flame 6 all have the same specifications. All come for Rs. 3,999. All have dual SIM slot and features 1.5 GHz quad core processor. It has 4 inch WVGA display and 512 MB RAM. It has 4 GB memory which is expandable to 32 GB. The flame phone can be operated in 10 different Indian languages. They all run 5.1 Android OS.
Reliance LYF Flame 8 can be bought from Flipkart. This phone is priced at Rs. 4,199. It has 4.5 inch FWVGA display. It has 1 GB RAM and 8 GB ROM. The memory is expandable up to 128 GB. It features 1.1 GHz Qualcomm Snapdragon 210 quad-core processor. The front and rear camera are 5 MP and 8 MP respectively.
Reliance LYF Wind 3 is available at Rs. 6,999. It can also be bought from Flipkart. It features a 5.5-inch display. It works on 1.2 GHz Qualcomm MSM8916 quad-core processor. It has 2 GB RAM and 16 GB storage that is expandable up to 32 GB. It has 2 MP front camera and 8 MP rear camera. It works on 5.1.1 Lollipop.
It is clear that Reliance LYF phones give much as compared to its price. Also, all come with a free 4G SIM card. Reliance 4G service is excellent as compared to the 4G service provided by the rivals. Its download speed is double and upload is 5 times when compared to other mobile operators. Hence Reliance Jio 4G SIM card with cheaper but good LYF smartphone sounds an interesting and good deal worth trying.
Hence it seems that Reliance is ready to give its rivals a tough competition with its Jio 4G service coupled with budget friendly LYF smartphones.
Most Searching Terms:
Reliance Jio 4G Tariff Plans/ Mobile Specification
Jio 4G Sim Card Price