Laser hair removal, is an option, worth considering if a person wants to get rid of unwanted hairs. This procedure is gaining popularity day by day. In laser hair removal, highly concentrated light is focused into hair follicles. Pigments in the follicle, absorbs the light and hence the hairs are destroyed.
Various types of lights and lasers have been developed for laser hair removal procedure. The most common types of laser that are used in the procedure includes diode, Neodymium YAG, alexandrite and more.
Why should a Person Opt Laser Hair Removal /Benefits of Laser Hair Removal
Laser hair removal helps remove unwanted hairs with precision. The procedure targets dark, coarse hairs without damaging the surrounding area. One can get rid of excess hairs in case of hair overgrowth or just to look more attractive.
After an average of three to seven sessions, person can get rid of unwanted hairs permanently.
The procedure is quite speedy, as each pulse of the light takes fraction of second and treat many hairs at the same time.
What are the Risk Factors Involved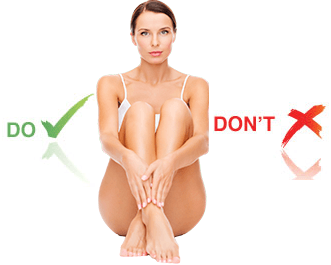 Whenever you choose a treatment there is always some risk factors involved in it. But in hands of qualified professionals risks are minimized. Here too, a qualified dermatologists reduces the risk factor but still some risk factors like Blisters, pain, scarring, skin pigmentation problem and burns are still involved.
How to Prepare Yourself for Laser Hair Removal?
Laser hair removal is a medical procedure that requires a trained doctor. Before undergoing the procedure one should check the credentials of the doctor.
The laser targets the hair roots which are temporarily removed by waxing and plucking. Hence person should limit waxing and plucking around six weeks before undergoing the procedure.
One should avoid sun exposure six weeks before and after the procedure. Sun exposure can make the procedure less effective and can create complications too.
One should also avoid aspirin and anti inflammatory drugs to avoid increase risk of bleeding.
Person should avoid deodorant, perfumes or any such irritants in the area to be treated before and after the treatment.
Also, person should avoid taking chemical peeling and collagen treatments for two weeks before the procedure.
What should a Person Expect After Laser Hair Removal
Patients undergone the procedure should expect the following:
Prescription for tropical antiseptic cream to be applied on the treated area
Redness and/or swelling of the hair follicle
Pain and discomfort that can be easily relieved through over the counter medicines
Avoid sun exposure at least for a week after the procedure
Person should look up for qualified Dermatologist for consultation and treatment. Doctors can examine the person thoroughly and suggest best treatment depending on the individual condition.
More Searching Terms:
laser hair removal before and after
side effects of laser hair removal treatment