GoAir is Offering Domestic Flights for as Low as Rs. 736
GoAir 736 Offer Code 2016: It seems all airlines are showering their customers with discounted rates for traveling. Also, the airlines are accepting the old ban notes of Rs. 500 and Rs. 1000 till 24 November. GoAir has also announced offers for cheap traveling. Under this offer, one can book an air ticket starting for only Rs. 736. This offer is available until 24 November.
As per the information is given on the company website, one can book tickets under this offer for traveling from 9 January 2017 to 31 March 2017. Airline also said that this offer will be valid for all the routes that GoAir covers. This offer has been launched by GoAir to give value for money to their customers and also increase their satisfaction.
To avail the offer, one can go to GoAir website, GoAir ticket counter, GoAir app and GoAir call center. These tickets are not available for group bookings and are non-refundable which means you will not get any money back on cancellation.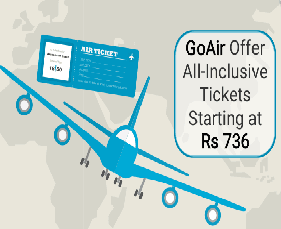 One can use old notes of 500 and 1000 too, to book the tickets. This offer is available for limited seats only and the offer is not valid on booking tickets for kids. This particular offer cannot be clubbed with any other offer.
Under this offer flight for Mumbai-Ahmedabad can be booked for Rs. 1952, whereas for Pune-Ahmedabad can be booked for Rs. 1458. Flight for Ahmedabad Pune can be booked for Rs. 2038. Delhi-Mumbai flight for 10 January is available for Rs. 2249 on GoAir website. This flight will take off from Delhi at 7 am and reach Mumbai at 9:10 am.
All the offers seem really interesting and beneficial. So if you have already planned a holiday or traveling for any other purpose within India from 9 January 2017 to 31 March 2017, then save your money by booking your air tickets with GoAir.
Most Searching Terms:
GoAir Special Low Fare Offers / Airlines Promo Codes
www.goair.in Cheapest Domestic Flight Tickets