Honda to Start Production of Its X-ADV and will Show Case It In EICMA in Milan
Honda X-ADV Scooter Price, Specification, top speed & Honda Adventure Bike Reviews: Honda is a well- known Japanese company involved in the manufacturing of automobiles, motorcycles, aircraft and power equipment. It tries to bring new technologies in front of its customers. Honda is the largest motorcycle manufacturer in the world. They announced that it has now started the production of its awaited adventurous X-ADV.
The company revealed the conceptual model of Honda X-ADV at the EICMA Motor Show in Milan last year. Now it has confirmed that it has started the production of the same and will first showcase it at the EICMA show in Milan in November this year.
According to Honda, its X-ADV is the combination of adventure and performance, practicality, and comfort. Let's check scooter price and specs and reviews. The full information about its feature will only be out in November but we can still assume certain things. The new X-ADV will have an upright riding position that will help in clear and higher visibility. There will be long travel suspension that will be helpful I handling the rough road surfaces. There will also be 5 stage adjustable windscreen and storage space to keep a helmet too.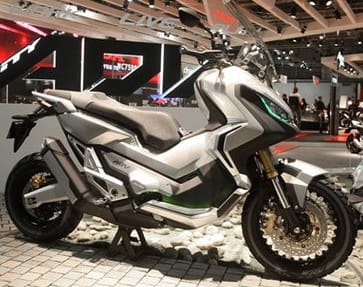 Possibly a 750cc parallel twin engine will be present to power the model. However, a company has confirmed the presence of dual clutch transmission (DCT).
The concept of an adventurous scooter was introduced by Brutus for the first time in 2012. Since then it has not entered into the production and comes up with a conceptual model every year in EICMA.
Many other companies have tried to produce the adventurous scooter in the past like Yamaha BW's, Peugeot Trekker and more. But they were able to show little adventurous look only but not the way it could be used on the road.
The three images of the new X-ADV released by Honda were the unpainted production model that was same as the concept look revealed in 2015 in EICMA.
Honda has excited everybody with the teaser of the adventurous scooter. In coming months we will be able to see the most talked about Honda X-ADV in Milan, Italy. Till then we will have to satisfy our self with the video itself.Honda is all ready to give its competitors a tough competition.
Most Searching Terms:
Honda X-Adv Scooter Review/top speed/test ride
Honda X-Adv Scooter India Launch Date/showroom near me