About ICICI Lombard Insurance Company Review and Services
ICICI Lombard Nomination Form: This Insurance Company is a joint venture between ICICI Bank Limited and Canada based diversified the financial services company, Fairfax Financial Holdings Limited. Recently Indian railway starts giving travel insurance on online ticket booking through IRCTC website. And in the new facility, this is the one company as a provider. If you got a message to update ICICI Lombard Insurance policy nominee form, then visit the official website and fill this form, you also renew policy online through ICICI Lombard login page access.
ICICI Lombard was established in the year 2001 and has its headquarters in Mumbai. It is the most preferred insurance company and is rated as the largest private insurance company in India which has issued over 5,00,000 insurance policies.
ICICI Lombard offers general insurance that provides car insurance, travel insurance, two wheeler insurance, home insurance, health insurance, business insurance and rural insurance.
ICICI Lombard Insurance Plans
Car Insurance
The company offers comprehensive coverage options. It protects your car from loss/damage occurred due to fire, earthquake, flood, storm, landslide, malicious act, terrorist activity, theft, burglary, explosion, self-ignition, lightning and accident by external means etc. It will provide for third party liability in case of death or bodily injury to any person and damages to property.
Important features of the insurance include
It provides for tow assistance in car breaks down on the road or unfortunately meets an accident.
You can opt for a voluntary deduction if the compulsory deductible is above.
You can avail a discount of up to 5% if you are a member of Automobile Associations. You can also get a discount of up to 2.5% if your car is secured for anti-theft by an Automobile Research Association of India.
If your insurance policy has lapsed and you want to renew it, you will avail doorstep surveyor facility.
You can purchase or renew a car insurance policy online. You can also get a free quote online, you just have to provide necessary details and coverage you would like to get.

 
Travel insurance
ICICI Lombard covers you for a hassle-free travel abroad. You can opt for Single Round Trip Travel Insurance plan or Gold Multi-Trip plan for multiple trips and have a worry free trip abroad.The travel insurance covers for baggage loss, medical emergency, an accident during travel, loss of documents etc. The insurance provides for cashless medical services.
You can buy travel insurance policy online and you can print immediate policy documents online. The claim process is also made easy. There is an assistance service provider, ASP to help you with any difficulties regarding claim service.
The company offers Student Travel policy too.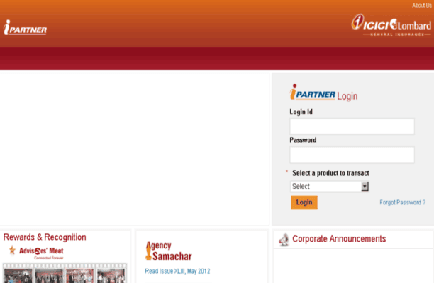 Health Insurance
Health insurance from ICICI Lombard provides coverage to health care needs such as hospital expenses, day care treatments, expenses for Ayurveda, Homeopathy and Unani treatment, organ donor expenses, medical expenses for 60 days pre-hospitalization and 90 days post hospitalization, domestic road emergency expense of about 1% of sum insured which can be maximum up to Rs 5,000.
The plans offered are Complete Health Insurance Plan, Booster Plan, and Personal Protect Plan. Each plan has various options. Booster plan is a supplementary plan to your basic health insurance.
The health insurance purchased for by anyone having age more than six years in a case of an individual health plan. There is no limit to upper age. Under floater plan, children having age 3 months to 5 years can be included. A floater plan can cover two adults and three children can be included. No medical test is required for age below 46 years and health cover of up to Rs 10 lakh.
ICICI Lombard has a large network of hospitals that provide cashless hospitalization.
The health insurance policy can be purchased for 1, 2 or 3 years. And can be renewed for a lifetime.
You can buy health insurance plan online. You can also get a quick quote. The claim process is also made simpler.
Home Insurance
ICICI Lombard provides home insurance for a house owned by you as well as rented house. You are provided options to buy a home insurance policy to cover structure of the house only or content of the house or both the house and content. The policy insures your house against loss/damage done due to fire, earthquake, storm, cyclone, tornado, tempest, lightning, riots, strike, terrorist attack, malicious act, landslide, overflowing of water, aircraft damage, explosion, missile testing operations. If you have insured content of the house, the policy protects against loss due to theft, burglary and loss of jewelry, precious stones, silverware, if kept locked, it can be Rs 1 lakh or 25% of the total sum insured, whichever is lower. You can also buy add-on coverage to our basic plan.
If you have insured for a structure of your house and if you have to go for alternate accommodation, the insurance will provide coverage of up to Rs 1 lakh, for up to six months.
The sum insured is decided by the built area of your home and in which city/location your house is. For the content of your home, the insured sum is decided by the market value of the content.
You can get a free quote online. You can also buy a home insurance policy online. You just need to provide necessary details.
Other Insurance
Business Insurance
ICICI Lombard offers various insurance solutions for small to large scale business that includes industry, marine, corporates, liability, events and offers customized products too. The insurance policy covers against fire, perils, and all industrial risks.
Rural Insurance
ICICI Lombard provides insurance to the rural sector that includes protection for agricultural, health, motor and other needs. The company takes social responsibility and provides health insurance coverage to below poverty line families through Government's RashtriyaSwasthyaBimaYojna (RSBY).
NRI Services
The company offers travel and health insurance policies for parent's trips abroad and offers motor insurance and home insurance too. There are different health plans such as Health Care Plus, Critical Plus, and Personal Protect.
Buy ICICI Lombard Insurance Policy Online
To buy an insurance policy online is made simple. Follow the steps given below.
Go to website www.icicilombard.com
Select the Health Insurance Product you want to buy.
Click on "Buy Now" button.
Enter details as instructed.
Get a quote. You can save a quote and retrieve later if you want.
Provide necessary details. Review the information provided.
Make payment. You can print insurance document immediately.
Renew ICICI Lombard Insurance Policy Online
You can renew your online as given below.
Go to website www.icicilombard.com
Click on "Renewal" option from the main menu bar on the home page. Click on "Renew Policy".
Select type of the product from the drop down list and policy number/mobile number or email id. Go to the "Proceed" button.
Renewal notice specifying renewal amount will be displayed.
Review the notice and make payment.
ICICI Lombard Branch Locator
You can locate for an ICICI Lombard branch office online. It is very easy. The process is as given below.
Go to the webpage at www.icicilombard.com/about-us/support/contact-us
A new Locate Branch page is displayed. Select State, City and Branch type. Click on the "Search" button.
ICICI Lombard Claim Intimation Online
You can intimate insurance claim online. Follow the steps given below.
Go to website at www.icicilombard.com
Click on the link "Intimate Claim" provided at bottom of the home page.
Provide necessary details.
Upload necessary documents.
Track ICICI Lombard InsuranceClaim Online
Go to the webpage at https://classic.icicilombard.com/IL-Health-Care/Customer/ClaimIntimationOnlineTracking
Click on the link "Track Claim" displayed on left of the page.
Enter WRN Number/Claim Ref No and Policy No/Policy Holder Name in the space provided. Click on the "Search" Button.
Status of your claim will be displayed immediately.
ICICI Lombard Customer Support
ICICI Lombard has a very dedicated team of skilled professional to help its customers. You can call customer representative at toll free number 1800 2666.
You can have a live chat online with a customer representative. You can also make a service request at [email protected]. You can visit a nearest branch office too.
ICICI Lombard has various plans and options for you to choose from to suit your needs. Select a right plan and get protected.
Most Searching Terms:
ICICI Lombard Login/ Online Renewal