Know All The Details of "Smartphone Mobivation 2016", A New Contest Launched by Panasonic India
Panasonic India launched a new innovation contest for students as Smartphone Mobivation 2016. Contestants can participate individually or in a group. They can register themselves on www.mobivation.in and submit their synopsis by 10th of September. In a case of team participation, there can be a maximum of 3 members and a team has to name a team leader too.
This contest is open to students of top technical colleges like IIT Delhi, IIT Roorkee, DTU Delhi and NSIT Delhi. To participate in this contest, students will have to apply their book knowledge to a practical one. Their finding whether software or hardware has to be Android-centric.
There are in total five categories for the contest and an individual and team can participate in maximum three categories. The categories of contest are as follows:
Artificial intelligence (AI)
Internet of Things (IoT)
Software – UI/UX Customization
software: Android Innovative features concept to enhance consumer experience and hardware.
Hardware: Hardware Innovation in terms of Design or any usable hardware-centric feature for smartphones.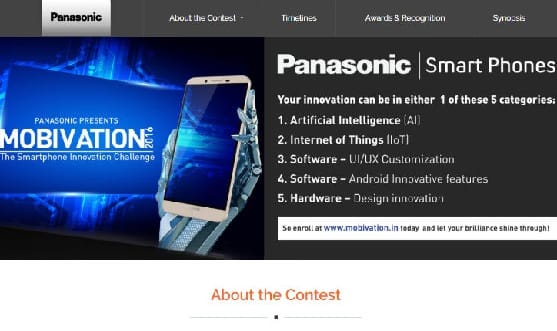 Winners will be declared on 14th October and prize worth 3 lakhs will be given to winners. Rs. 1 Lakh will be given to the winner. On addition to this, there will be cell phones and commendation certificates will be distributed.
Pankaj Rana, Business head of Mobility Division of Panasonic India said, "With this contest, Panasonic is looking forward to receiving concepts which could simplify existing usage, add more pleasure to mobile phone usage, make them more aesthetic or user-friendly, add newer convergence features. The participant/ teams will be evaluated on the basis of their ideas usefulness, commercial viability, practicality and the quality of the overall presentation of their ideas," Pankaj Rana, Business Head – Mobility Division, Panasonic India said.
With a contest like this company is providing contestants a chance to convert their innovation into a prototype, if their idea is liked and approved by the company. The contestant as individual or team will be judged on the basis of their ideas usefulness, commercial usefulness, practicality and the quality of which they will represent the overall idea.
This contest by Panasonic has come up with a great platform for students. This will help students think out of the box and apply their theoretical knowledge in a more sensible manner. This will be a nationwide platform to show up the x-factor in a person. This is a chance not to be missed.
Most Searching Terms:
Join Smartphone Mobivation 2016 Panasonic Contest
Panasonic India 'Smartphones Mobivation 2016'