Xiaomi Now Launches Mi Robot Vacuum that can be Controlled by Mi Home App
Mi Robot Vacuum Cleaner Reviews: Xiaomi is a known Chinese electronic company. It is involved in designing, developing and selling smartphones, laptops, and other electronics. It has launched many smartphones, tablets, Mi Notebook Air, Mi rice cooker and so on. It has now come up with Robot Vacuum. Xiaomi has launched new Vacuum that will work in integration with Mi Home app, Xiaomi Mi Robot Vacuum.
The new vacuum cleaner will be available from September 6 at CNY 1,699 in China, for now, that is Rs.17,000.
The Mi Robot vacuum cleaner by Xiaomi comes with 12 sensors including an ultrasonic radar sensor, a cliff sensor, gyroscope, accelerometer. The new vacuum cleaner is integrated with Mi Home app due to which one can control the robot by remote, monitor cleaning and can also set schedule for cleaning.
The new cleaner features Laser Distance Sensor and is developed by Mi Ecosystem Company. It is designed in such a way that it can scan the surroundings across 360 degrees and that's to 1,800 times per second.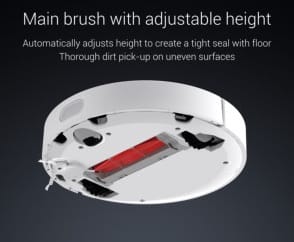 Mi Robot vacuum has two circular side brushes and a cylindrical main brush into which the former sends the dirt. It also uses a Nidec brushless DC motor for the vacuum, with up to air pressure of 1800Pa. The machine can automatically adjust its height to increase the suction. It can move around due to two main rubber wheels and one supportive wheel and is further supported by various sensors like ultrasonic radar sensors, wall sensors, collision sensors, cliff sensors and drop sensors. With such support, you can be assured that the vacuum cleaner will neither bump into objects nor fall down the stairs.
The new vacuum cleaner also features Simultaneously Localization and Mapping (SLAM) algorithm. Due to this feature machine can map your room and calculate the best cleaning path. The smart vacuum cleaner will return to the charging dock once it is done. It features 5,200 mAh 14.4V lithium-ion battery that can continuously clean for 2.5 hours.
It is too early to predict anything about Mi Robot Vacuum but at a price around $250, its worth a try. Xiaomi has been really diverse in the range and products and with the launch of new robot vacuum it has still increased its portfolio.
Most Searching Terms:
Best Robot Vacuum Cleaner for Home Use