Priyanka Gandhi's Daughter Wins Hearts in Basketball Match
Miraya Vadra, a daughter of Priyanka Gandhi grabbed the focus of the center for all as she was on the field playing basketball match along with the team from Haryana.
Basketball Federation of India is holding 42nd Sub-Junior Basketball Championship at Rajiv Gandhi National Stadium, Puducherry. The tournament is scheduled from 23rd February to 29th February.
Miraya Vadra basketball player
A match was scheduled between Tamilnadu and Haryana on Tuesday at 10:45 am. Tamilnadu outperformed Haryana with the score of 27-6. Tamilnadu's Pavithra has excellent who scored 36 points herself.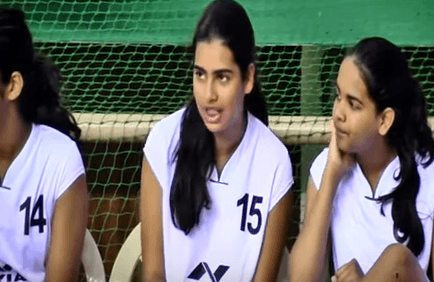 Miraya was accompanied by her mother to Puducherry to see her playing on the field. She went separately with her mother and stayed in a hotel. High security was beefed up at the hotel where they stayed.
Miraya was found sitting with her teammates in the stadium and trying her best to escape special attention. She was behaving normally and was cordial with her teammates on the field as well as on the stadium practicing, watching, and waiting for the game to start.
Miraya is 14 years old. She is tall and fit. She played her match against Tamilnadu, it was her first match. She was wearing 15 number Jersey and played in the second quarter of the match, but failed to score a point.
More Searching Terms:
Priyanka Gandhi Daughter in Basketball
Miraya Priyanka Vadra 2019
latest photos and news updates