1st Choice Bankruptcy Courses
My BK Counselling: 1st Choice Credit Counselling and Financial Education empower people about personal finances. These Courses prepare them to handle ups and downs of finances and business. You can take First Choice bankruptcy courses that include counselling and education at the online portal www.mybknow.com. You can take a course before or after you file bankruptcy.
Anyone who is interested in basic financial education or wants to improve his finance can take the courses. Mybknow also helps you decide whether you should choose bankruptcy as the only resort. If an individual or business is to file a Chapter 7 or Chapter 13 bankruptcy, the courses have a lot to offer you to meet all the requirements.The courses are designed in a way to help you fulfil the bankruptcy law requirements.
There are two courses offered. Course one is Credit Counselling Course that you have to take up before you file. It is also called bankruptcy certificate course or pre-filing course. You can take the course online or over the phone. The course also offers credit help in various ways through housing counselling.The counselling focuses on mental, emotional and spiritual well-being as financial difficulties play a havoc on the person.You have to pay $32 for the course fee.
The other course is personal financial management course. It is also known as pre-debtor or debtor education course. There is $25 fee for the course.
If you want to take the bankruptcy courses offered at www.mybknow.com, you have to login to the portal with your username and password. By logging into your member account, you can take the course online and enjoy the convenience and privacy; you can have your own schedule.
In order to have your login id, you need to register an account. Once you are registered member, you can login anytime to your member account and get access to access to credit counselling, credit rebuilding tools and stress management.
How to RegisterMybknow Account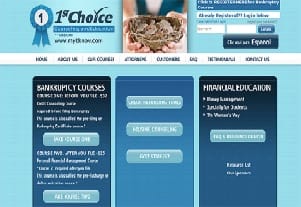 Go to www.mybknow.com
Click on the link 'Click to Register Here for Bankruptcy Courses' displayed on top right of the homepage.
A new page will be displayed giving details. Click on the 'Register Online'.
A new page will be displayed showing disclosure. You go through it and then check the box to agree to it.
Provide your household size and household income and click on 'Continue' button.
Do as directed, create your username and password and complete the process. Once you have registered, you can login to it anytime.
If you have any queries regarding Mybknow account, you can call 1-877-692-5669 or you can send a request through at [email protected].
Most Searching Terms: