The guru of the BAPS Swaminarayan Sanstha, Pramukh Swami Maharaj died on Saturday, 13 August at 6:00 pm , aged 95. His birth date is December 7, 1921. His real name is Shantilal Patel and he was born in the village of Chansad, Vadodara, India.
Live Darshan of Pramukh Swami Maharaj, 13 August 2016
Last Darshad Video:
Pramukh Swami Maharaj died at Sarangpur BAPS Mandir. Here you can do last darshan of Swamiji.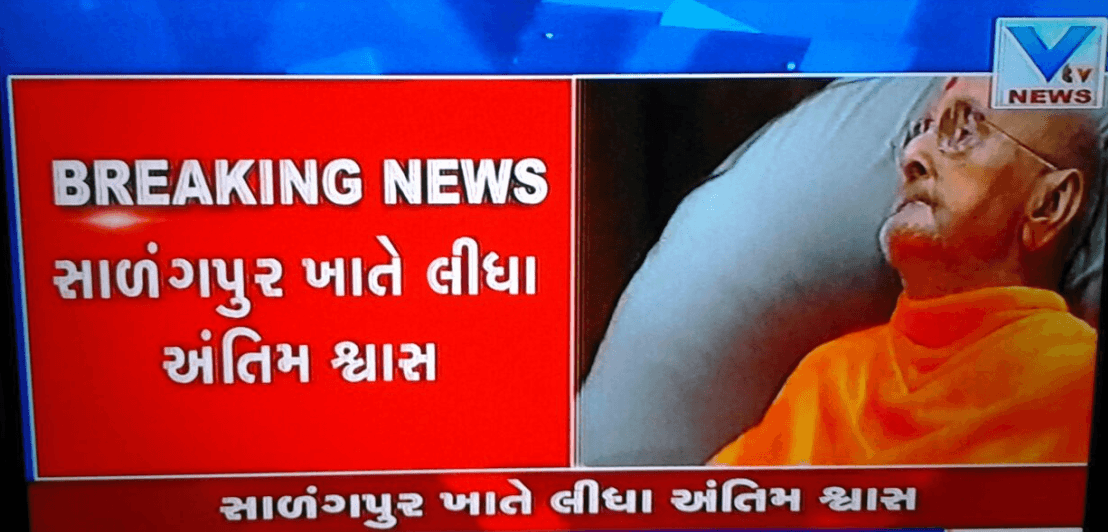 Swamishri's darshan will be possible 24 hours daily from 7.00 a.m. Sunday, 14 August 2016 as per the following schedule.
14 August 2016: Rajkot, Surendranagar, Bhavnagar, Botad, Ahmedabad, Kheda, Gandhinagar, Mahesana, Sabarkantha
15 August 2016: Tapi, Narmada, Dang, Selvas, Mumbai, Navsari, Surat, Banaskantha, Dahod, Chhota Udepur
16 August 2016: Jamnagar, Kutch, Junagadh, Gir Somnath, Amreli, Aravalli, Patan, Mahisagar, Vadodara, Panchmahal, Anand
17 August 2016: 8 a.m. to 11 a.m.: Bharuch, Valsad and outside Gujarat
Devotees from outside India may arrive for darshan at any time during these days.
All are requested to come at the specified time and date so that darshan arrangements can be smoothly managed. No accommodation facilities will be available during this period. All are requested to depart after darshan.
The final cremation rites will be broadcast live on live.baps.org at 3.00 p.m., Wednesday, 17 August 2016.
You can read Pramukh Swami Maharaj Death News in Gujarati by visiting below-given link of Divyabhaskar online newspaper: http://www.divyabhaskar.co.in/news/SAU-BVN-OMC-pramukh-swami-passed-away-gujarati-news-5395398-NOR.html