Ringing Bells to open booking of cheapest HD LED TV, Freedom 9,990, on 15th August
Ringing Bells created much hype when it announced smartphones at as low as Rs 251. Now it claims to start the booking of the cheapest LED TV, Freedom 9900 at the low price of Rs. 9,900. So, now many users have many questions like,
How to buy Ringing Bells Freedom 9900 TV Online?
Check first look and photos of Freedom 9900 HD LED TV
When starts Registration for Ringing Bells Led TV?
Freedom 9900 Television Features and Price
What is Ringing Bells Customer Care Number?
Screen Size, Price, and Specifications of Freedom 9900 LCD TV
How to book Ringing Bell Freedom9900 TV?
As per announced by the company, it will begin the bookings of the new LED TV from 15th August 2016. It also claims to start the delivery from the next day itself.
Ringing Bells Freedom 9900 TV Booking Online
Earlier when the company announced to give smartphones at Rs. 251 many believed it to be fraud or thought it would not be able to fulfill its promise. However, the company got 7.5 crore registrations. The company later said that it would be able to deliver only 2.5 lakh handsets.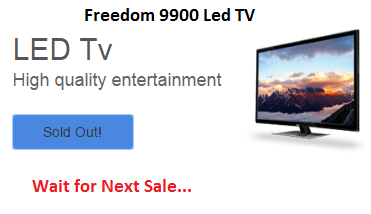 Now, you can book Ringing Bells Freedom 9900 TV online by visiting their official website www.ringingbells.co.in. On the official website, you may found the option for buy Freedom 9900 HD LED TV with cash on delivery online shopping.
Low Cost LED TV Freedom 9900 Registration Date
The registration date for Freedom 9900 LED TV is 15/08/2016. It is also important to note that when Ringing Bells opened the booking for Freedom 251, its site crashed very soon due to heavy traffic.The company will open the booking of its new LED on August 15th for just one day but has not made it clear about the number of TVs it will deliver.
Ringing Bells's Cheapest Television Features and Price
In the Indian market, the HD LED TV that is either 32-inch or more are sold more as compared to the smaller ones. According to an expert, it would not be able to sell HD LED at the price less than Rs.10,000 otherwise the company will be in loss. Whereas Ringing Bells claims to get a profit of 10% to 15%.
Freedom 9900 will have the 31.5-inch display, which will come with HD resolution of 1366 x 768 pixels. It has the contrast ratio of 3000: 1. It also features 2 USB, 2 HDMI, and 2 speakers.
Ringing Bells's Cheapest Television Features and Price
[ultimatetables 1 /]
The price at which the company has announced its sale of LED is really impressive. There is no other brand that provides such HD LED at such an affordable price. At this price of Rs. 9,990 LED will be under the reach of lower middle class too. The company's spokesperson said in a press conference,
We are expecting a good response for the television and assure our customers that they will get a quality product in the price that they never thought of in the current market scenario.
Ringing bells had postponed the delivery date of Freedom 251 many times. It will be interesting to see how people will respond to its HD LED TV launch. The launch of Freedom 9,990 will surely increase the competition in the TV industry.
Corporate Office Address of Ringing Bells Private Limited
Address: 217, 1st Floor, Tower A, The Corenthum, Sec 62, Noida, U.P.
Telephone No.: 08822232323, 0120 4313097
E-mail add: [email protected]
Ringing Bells Customer Care No. 9599587353 for any Inquiry
As a customer, if you want to know any more details about Ringing Bells Company or their products then you may contact on this number – 9599587353 with India code +91.
Check first look and photos of Freedom 9900 HD LED TV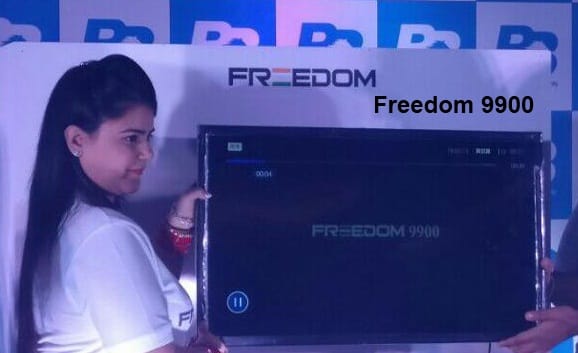 Ringing Bells' Freedom 9900 TV Launch Event Video
Freedom 9900 LED TV of India – First Look Video:
More Searching Terms:
Cheapest LED TV in the market with HD resolution
Budget HD LED TV Price
Cash on delivery available for Freedom 9900 TV
Ringing Bell LED TV
Freedom 9900 LED TV
Online Booking of Cheapest HD LED TV