Spicejet Annual Sale Offer Today
Spicejet Offers Today: Demonetization of 500 and 1000 currency notes has affected people of all the segments. Business has been affected and so everyone is spending money now, thinking twice about it. People are either exchanging the old currency with new ones or using them with ones who are accepting the old currency. If you too are planning a travel through airways and want to use your old currency too, then Spicejet is having some good news for you.
One can book Spicejet's ticket under the annual sale declared by the company. Under the annual sale of Spicejet, one can book an air ticket for only Rs. 737. What comes as a bonus point is the fact that you can use your old currency notes of 500 and 1000 if you book the tickets by Midnight of 24 November.
The annual sale was announced by the company on Monday. This sale is valid on domestic tours only. Under the sale called ' Spicy annual sale', the tickets can be booked till 24th November.You can book the air tickets for the sale if you are planning your visit between 9 January 2017 to 28 October 2017. The routes included in the sale are Chennai-Coimbatore-Chennai, Agartala-Guwahati, Chandigarh-Srinagar-Chandigarh, and Jammu-Srinagar-Jammu.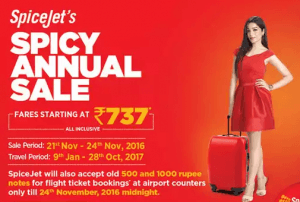 The company has not clear the number of seats that are being booked under the scheme. However, Spicejet has said that there are limited seats and will be given on first come basis.
Spicejet also announced daily flights on Mangalore-Dubai routes, a few days back. Under this announcement, the airfare was fixed as Rs. 6,013 and flight SG59 was announced to take off daily from Sunday onwards.
Various airlines are coming up with new discount and sale offers. Go ahead and take profit of this. As an added benefit the companies are accepting old currency too. So look for schemes and your traveling dates and take the advantage.
Most Searching Terms:
Spicejet Annual Sale Offer Today