Best off Campus Housing Syracuse University Area
Syracuse University is located in Syracuse, New York. The University was established way back in 1831. It offers undergraduate, graduate and doctoral programs. The university houses 13 schools and colleges. It offers about 200 majors and 100 minors' undergraduate courses. It is a proud to join Syracuse university and how live there is also equally important. Here we will check Syracuse University off campus housing and nearest apartment rentals. Many living spaces for students are located near Syracuse. Some of them are:
U Point Living Spaces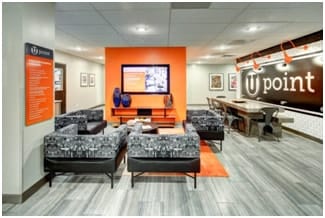 Conveniently located near Syracuse University, U Point Syracuse's modern living spaces offer comfortable and modern living which includes amenities for health and fitness as well. There are 2, 3 & 4 bedroom apartments available. One can reach to attend the classes at university by walk or through bike. Other amenities at the university such as Varsity Pizza, Starbucks, Café Kubal and others are also located close to U Point.
Amenities provided include Academic Success Center with group and private studies, 24-hour well equipped fitness centre, 24-hour recreation centre, coffee bar, on-site retail and Wi-Fi hotspots and group and private study rooms. Every apartment has internet connectivity.
The apartments are fully furnished and offer private bedrooms and bathrooms. The kitchen is fully equipped. It also includes washer, dryer and other utilities. There is garage parking facility offered. It provides onsite maintenance and 24-hour on call staff.
U Point is developed by American Campus Communities, the largest developer of housing for students' communities. It offers best student experience. The plan starts with $749 per instalment per person. One can apply online for apartment rent.
Campus West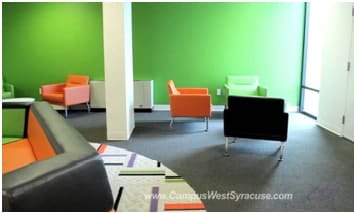 Campus West offers convenient off campus living in close proximity to Syracuse University. Apartments offered are fully furnished and equipped with modern appliances. They have studio, one, two and four bedroom plans to choose from. Different plans are offered. The apartments are available on 10 and 12 months lease. You can apply online to rent an apartment at www.campuswestsyracue.com . Monthly instalments can be paid online too.
There is a 24 hour on-site maintenance. Convenient access to public transit is available. There is a convenience store and Starbucks which makes it easy to grab the things you want. There is printing services available too. For healthy living, it houses a gym with latest fitness equipments. There is a study lounge and it is just moments away from Syracuse University.
University Village Apartments On Colvin
Located close to Syracuse University, On Colvin provides the best and most convenient student living experience. They have two and four bed room plans. Each apartment is fully furnished and includes TV cable with HD channels.
UV Colvin provides best amenities which include study lounge, fireplace lounge, game room, computer lab with printing services, Starbucks coffee and much more. There is 24/7 maintenance offered.
There is free shuttle service to the North Campus is available. Other facilities are also available short drive away.
One can apply online at www.uvcolin.com. Rent payment can also be made online.
More Related Queries: