Five Killed After Super Typhoon Megi Hits Eastern China, Taiwan
Typhoon Megi 2016: A massive super typhoon Megi has hit eastern China on Wednesday leaving one person dead. Just a day before strong winds at the speed of 162 km and a bout of heavy rain lashed Taiwan which also led to landfall on the east coast. It killed at least 4 people and more than 260 were left injured.
According to National Meteorological Center of China, the typhoon has slowed down after hitting the coastal city of Quanzhouin Fujian province to a tropical storm before dawn with the speed of 118 kilometres per hour.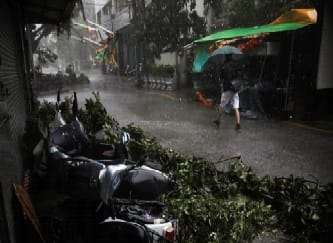 One person died due to several structures collapsed inQuanzhou. Fuzhou which is the provincial capital of Fujian was flooded with knee-deep waters everywhere that included major roads. Schools remained closed and a number of flights were cancelled.
The injured in Taiwan included eight Japanese tourists who were on a travel by bus in Central Taiwan;the bus turned on its side due to a storm. According to Lee Wei-sen, a spokesman for Taiwan's Central Emergency Operations Center, among the four who died, three had fatal falls; whereas the fourth unfortunate person died in a truck crash. Most of the injuries were caused due to falling and being hit by wind-blown objects.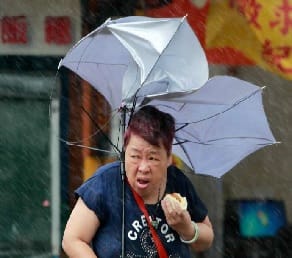 Taiwan is prone to landslides and flooding and already alerts were raised by Taiwan authorities. Over 8,000 people from mountainous areas who were at risk of landslides or floods were already evacuated, mostly from. The power supply was disrupted to about million households. 121 flights were delayed due to weather conditions and 253 were forced cancelled and seven more were diverted to other airports in Taiwan.
According to China's official Xinhua News Agency, fishing boats on Chinese coast near Taiwan were ordered back to the port due to high alert.
500 kilometres area was affected by Megi and rainfall was about 300 millimetres in the south and eastern mountains of Taiwan. This is the fourth typhoon Taiwan has been adversely hit with; out of which three typhoons hit in the last two weeks.
Most Searching Terms:
Typhoon Megi Video
When did Typhoon Megi Hit the Philippines