Check Updated FEMA Flood Risk Map on FEMA Flood Map Service Center (MSC)
Flood insurance is not necessary for those who have homeowners' insurance policy. But, a first time in a history, FEMA is updating flood hazard maps nationwide. According to a map, if owner's home is in flood risk area, he needs to buy flood insurance. Many mortgage companies also demand flood insurance if a home is under flood risk area and sometimes these companies also buy it for homeowners. The federal government also forced to buy flood insurance if home caught under FEMA flood risk.
A person has to buy flood insurance plan separately because a simple home insurance doesn't cover some hazards like flood and earthquake but covers water damage because of a backup of sewers and drains till coverage limit.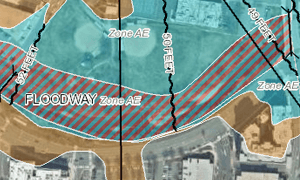 Most of the time, owner of the home doesn't know whether he has to buy flood insurance. To find its answer, just know if your area is covered under flood risk area or not in FEMA list by entering a zip code at the FEMA website www.floodsmart.gov. Flood risks can be changed for many reasons, such as new development, changes in levee classification and environmental changes, therefore, FEMA updating maps regularly after examination and these new maps are known as "Digital Flood Insurance Rate Maps (DFIRMs)".
If one's property changes from low risk to high risk then he must have to pay more flood insurance and to reduce this risk, grandfather rule becomes useful. Grandfathering is a strategy of buying a policy before the new maps take effect.
If you are not in the high-risk area, you will qualify for a Preferred Risk Policy that covers home and other things for $119 per year for lowest risk which is valid for two years. At the time of renewal, you will qualify for standard rates associated with moderate to low-risk zones rather than a higher rate that charge a premium from $500 to $1,700 for a year.
Exactly opposite to this, if a map shows that your area is moved to low risk area from high risk, then immediately contact the insurer to lower flood premium rates. If FEMA incorrectly identified your home as a flood risk area, you can hire a surveyor (which could cost about $1,000 to $1,500) to prove a case that will save lots of money in flood insurance premiums.
Flood map updated schedule can be seen from below link by entering zip code of area:
http://www.floodsmart.gov/floodsmart/pages/flooding_flood_risks/map_update_schedule.jsp
Most Searching Terms: