Walmart Product Care Plan
Walmart care plan registration/login: Walmart offers product protection besides manufacturer's warranty with different product care plans. There are various Walmart care plans such as General merchandise service plan, product replacement plan, computer service plan and disc service plan. Here we discuss the return policy, terms, and conditions for this service. You can protect your product from damages done due to power surge, due to heat, humidity, and dust, mechanical as well as electrical failure. The product care plan also applies to defects in product material and craftsmanship. In the case of electronic items such as Computer, TV mobile, if pixel failure takes place, it can also be taken care of.
The product care plans provide coverage at very less price and with $0 deductible. The product coverage starts from the day of purchasing a plan. Your plan can even cover shipping cost if you have to send a product for repairing. If you feel that you don't want the plan you have purchased, you can return your unused plan within 90 days and your money will be refunded.
Walmart Product Support
Let's check Walmart care plan and product return policy details. You can manage your product care plan online. You can register your products, manage the products, know about manufacturer warranty information, make a claim, track the status of your claim etc. at www.walmartcareplan.com. You can also ask for help online or on a phone. Besides product care plans, Walmart provides 24/7/365 support that provides excellent product care services. You can get technical support, join to live chat with customer care representatives, browse through getting set up guides and owner's manuals, go through FAQs and troubleshooting, get access to PC care center and much more.
For online management of your plan, you need to register an account online with ProductAssist Walmart Product Support Centre. Once your account is registered, you can log in to your account whenever you want and can manage your plan. The registration is a simple process and hardly takes few minutes online. Following given are the steps on how to get product help.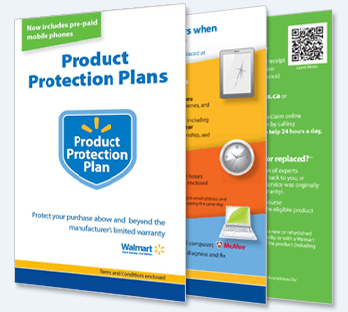 Go to the website at www.productassist.com/walmart.
Type in personal details such as your name and address in the space provided. Verify the details.
Provide your receipt details such as store number, register number, transaction number, date of your plan purchase, plan purchase price, plan warranty SKU, product price etc. in the required fields.
Click on "Identify Your Product" button. Once t is identified, you can manage it online.
If you are facing any difficulties regarding the product you have purchased, you can contact Walmart online through a link "Contact Us" displayed on the lower right corner of the homepage. You can also search for your product problems by typing your criteria in search space and clicking on search button. You can even make a call to helpline number of customer service at 1-877-968-6391and talk to a customer representative.Even if you don't have your product receipt, you can request a customer care representative, he may assist you.
About Walmart
Walmart is the largest retail chain of American discount department stores and hypermarkets that operate multinational. It was started in 1962 and is headquartered in Bentonville, Arkansas.There are about 10,800 stores in 27 countries across the world.
To know more about the product supports, you can refer to frequently asked questions, FAQ at www.productassist.com/walmart/en/faq.html#q1
Most Searching Terms:
Track Your Claim
Walmart Care Plan/registration/login
Walmart Product Care Plan Lost Receipt Return Policy