Netflix Launches Its Own Speed Test Website, www.fast.com
With a view to check speed of internet, Netflix has launched its own website www.Fast.com. It is simply a speed test website to check the download speed. Usually, download speed is a determining factor when it comes to video quality. It is aimed at help customers to find out whether you have a problem with Netflix or your ISP is slow.
It is very simple to use the website. You just open the webpage and it will automatically start checking the speed. A grey scale will be displayed while the test is underway which will turn black when the test is completed. Anyone including non-Netflix subscribers can use Fast.com to check internet speed. Fast.com performs a series of downloads from Netflix servers in order to check speed.
Netflix's fast.com will display the speed and it won't help much to determine if your internet connection is working normal or slow as it is determined by the what internet package you have. Anyway, you can communicate your ISP about the result from this Netflix speed test if you have any problem.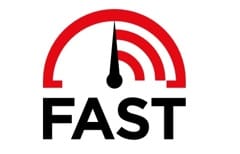 There are many websites that measures internet speed index for download as well as upload, the difference between those websites and Fast.com is that the later checks downloads from Netflix's servers. The site works on web, tablet, smartphone and even smart TVs that suppors a web browser. Another difference is that Fast.com measures speed of user's internet connection anytime, other tools measure average monthly speeds of actual Netflix streams during prime time hours.
Netflix provides video streaming that relies entirely on high-speed internet connections and video quality suffers if internet connection is fast enough. Netflix wants to bring transparency to its business and release of Fast.com is a step ahead in solving user problems. With Fast.com, it provides users a simple, quick and free way to estimate the speed of internet they are using.
Netflix recommends a minimum 3 MBPS downstream speed for standard-definition video quality and minimum 5 MBPS for high definition video quality. And to watch the select amount of Ultra HD content, at least 25 Mbps is recommended.
Earlier Netflix has also launched cellular data control tools that allows consumers to configure how much data Netflix's mobile app uses.
Most Searching Terms:
Netflix Speed Test Website Com