Biography of Actress Sofia Vergara
Actress Sofia Vergara Family Pictures: Emmy-nominated actress Sofia Vergara is a known Colombian-American actress, comedian, producer, television host, model, and businesswoman. Born on July 10, 1972, she is known mainly for co- hosting two Spanish television shows. Here we discuss on her family and personal life. She also worked in films and became very famous as Gloria Delgado-Pritchett on the hit sitcom Modern Family. She was nominated for Emmy and Golden Globe awards for the same.
Early Life and Career
Sofia Vergara was born in Barranquilla, Columbia on 10th July 1972. Her family was large and Roman Catholic. Her mother was Margarita Vergara Davila. She was a homemaker. Her father was Julio Enrique VergaraRobayo. He was a cattle rancher in a meat industry. Sofia had five siblings. Her five siblings and cousins had nicknamed her as 'Toti'.
Sofia was studying Dentistry. But when she was only two semesters away to become a dentist she left the studies to grab an opportunity in show business and modeling. A photographer discovered her on the beach and she went on to do a commercial for Pepsi for a Latin American market.She was only 17 at that time.She then moved to Miami, Florida later. Her Older brother Rafael was murdered in 1998.
She then joined Creative Workshops School of Acting. In 2011, Vergara was all set to star in The Paperboy, a drama directed by Lee Daniels. The shooting of the same was a delay for a week and she had to drop out of the drama as she was already committed for Modern Family.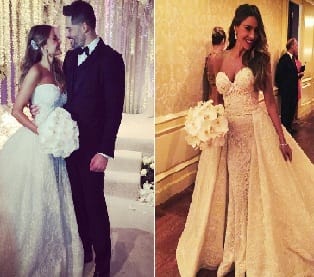 Vergara finished shooting for The Three Stooges in July 2011. She said, "I play a mean woman that tries to manipulate the Three Stooges into killing her husband so that she gets all the money.
Vergara acted in her son's web series Vida con Toty in April 2012. As per the list released by Forbes.com on July 18, 2012, she was the highest earning woman in the U.S.
Vergara was named one of the "50 most beautiful people" by People's Magazine. She has also been listed by Hollywood Reporter and Billboard as one of the most influential Latin women in Hollywood.She was also a recipient of a star on the Hollywood Walk of Fame on May 7, 2015.Vergara told the stories, of the victims of 2016 Orlando gay nightclub shooting, in the video released by Human Rights Campaign.
Currently, Vergara stars on Modern Family as Gloria Delgado-Pritchett and has been nominated for the Primetime Emmy Award for Outstanding Supporting Actress in a Comedy Series for 2010, 2011, 2012 and 2013 in a row.
Vergara acted as comedy contender on the big screen too. She co-starred in The Smurfs in 2011. She also voiced the role of Carmen in Happy Feet Two. She was also one of the casts of New Year's Eve. She also starred in Machete Kills (2013), Fading Gigolo (2013) and Chef (2014).
Other than the entertainment industry, Vergara also launched her clothing line and fragrance and jewelry collection in 2014.
Endorsements did by Sofia Vergara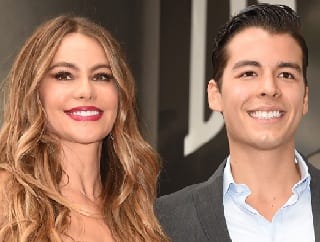 Vergara was named the face of CoverGirl in 2011 and the first advertisement was out in 2012. She appeared in Pepsi advertisement with David Beckham in April 2011 and then in January 2012.
In 2011 she was seen in many commercials for Comcast's Xfinity brand and State Farm. In the same year, it was also announced that she was involved in designing clothes for Kmart that would target soccer moms.
Sofia signed contracts of endorsement with Diet Pepsi, medicine Synthroid and Rooms To Go.
Personal life
Sofia Vergara got married to her childhood love Joe Gonzalez at the age of 18. Monalo, their son was born in September 1992 and the couple got divorced in 1993.
In 2000, Vergara was diagnosed with thyroid cancer. The strong lady underwent radioiodine therapy and was fully recovered.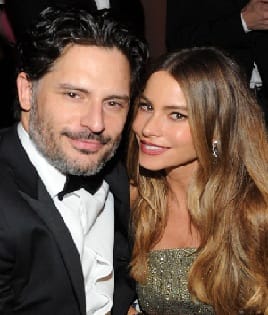 Sofia's younger brother Julio was drug addicted from a long time. He was deported from the US to Colombia on May 9, 2011. Vergara remarked, "To see somebody dying over 10 years, little by little, that's the worst punishment. Now he's like another person.
Vergara got engaged to her boyfriend Nicholas M. Loeb on July 10, 2102. However, Vergara announced that their engagement has been called off on May 23, 2014.
In the year 2015, Vergara came in a legal dispute with Loeb regarding the frozen embryos. Loeb sued Vergara for having control over the frozen embryos that couple created when they were in a relationship. He said that Vergara will destroy the eggs. However, Vergara's attorney said in a statement to People magazine, "Vergara . . . is content to leave the embryos frozen indefinitely".
Vergara started dating Joe Manganiello in July 2014. After dating for six months the couple got engaged on Christmas and got married on November 21, 2015, in Palm Beach, Florida.
Vergara revealed on Jimmy Kimmel Live on December 2014, that she has become a United States Citizen after she scored perfectly in citizenship test.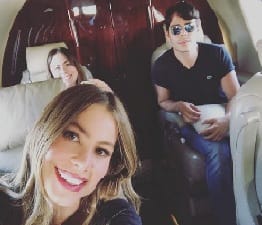 Forbes estimated Sofia's income as $28.5 million in 2015. Forbes recently revealed that she is the highest paid actress in television.
Sofia Vergara has been a successful lady. Be it her career or personal life or fighting with thyroid cancer, she has come out as a strong lady. She has been nominated for various awards and has won some too.
Most Searching Terms:
Actress Sofia Vergara Perfume/ Personality Traits