Aryan Shares yet Another Cute Photo of Himself and Abram Calling Abram as His Backbone
Shah Rukh Khan and family is one of the most talked about and glamour-studded family of Bollywood. SRK and Gauri are the power couple and their kids Aryan, Suhana and Abram are too well known through social media.
Suhana and Aryan share many Pics through social media and these include their pics with lil Abram. Recently a cute video in which Abram was trying to say 'Bhaiya' became viral. Now again the two brothers are in the limelight for their cuteness. Aryan shared a pic through Instagram wherein Abram is holding Aryan's fingers.
He captioned the picture as "Best feelingEver….#Abram#MYbackBone#BrothersLove." Aryan describing Abram as his backbone shows elder brothers love for the younger one.
Abram has been in the news since his birth. For quite some time now, Abram's pics on social media has been loved by everyone. Recently Suhana shared a pic on social media in which she and Abram are on the beach and playing hide and seek.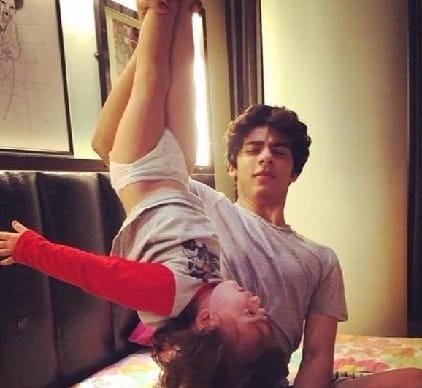 Earlier SRK too uses to share many pictures of Abram on social media but after being told by her wife not to share too much about Abram he stopped. SRK earlier did not like to talk about his kids but now he talks about them freely. He even told media recently that when he struck in traffic he utilizes, this time, to talk to his children.
The latest pic of Aryan and Abram is really cute and will surely bring a smile on your face.
More Searching Terms:
Abram Khan Latest Pictures/ Recent Photos