Sell Used iPhone – How to and Where?
Best Place to Sell Old iPhone Instantly: A Cellular market is so innovative and technology driven, you see that the market is flooded with new products with new features all the time. All most all the cell phone users love to get the latest phone. The phone you already have might be a good one and costly, and you would feel that you can sell it at a reasonable price. Here we get a full guide on how to sell old iPhone instantly and where to sell iPhone online for cash in UK or USA?
You have iPhone and you want to sell it to buy a new on. If you want to sell your used iPhone, there are various ways. We discuss below how and where you can sell your used Apple Phone at best possible price.
Prepare Your iPhone for Sell
Unlock Your iPhone
Your iPhone buyer can use your iPhone for any carrier in any region. So, if your iPhone is locked to a particular carrier, you see if you can unlock it. Some carriers charge some amount to get it unlocked or some might have contract period. If by paying a little money, if you can lock it, it is worth it as it increases your resell value.
Back Up your iPhone
It is very important that you take backup of your iPhone so that you can restore it on your new phone. You can use iCloud, it will automatically back up your data. You also back up your data manually. Follow the guideline given below on how to backup your iPhone data.
Backup using iCloud
Has your iPhone Wi-Fi connected?
Launch "Settings".
Select the option "iCloud" by tapping it.
Select "Back Up" tapping on it.
Tap on the option "Backup Now".
Manual backup using iTunes
Connect your iPhone to Windows PC or Mac.
Launch iTunes by tapping on it.
A menu bar will be displayed. Click on the "iPhone" icon.
Click on the option "Backup Now". If you want to secure backup, click tap on the option, "Encrypt backup".
Wipe off your Personal Data
You make sure that you wipe off all the data stored on it in order to prevent it from unauthorized access to your private data. It is very simple to wipe off data from iPhone.
Launch the Settings app on your iPhone.
Tap on the option General.
Scroll down to the bottom, you will find reset option. Tap on it.
Tap on the option "All Content and Settings".
Tap on the option "Erase iPhone". You will be asked to tap it one more time to confirm it.
Key in your password.
Turn off activate lock by typing your Apple ID password.
Other Measures
You clean your iPhone case of dirt, lint, fingerprints, debris etc. with a damp cloth carefully. Clean ports too. If you are to take a photo to post in order to sell, it should look in a good condition.
You keep Dock cable, AC adapter, an original box if you have with it. If you have any accessories such as cases that you won't be using for the new iPhone you are planning to buy, you can just give it to the iPhone. It will increase your sell values.
How can you sell your iPhone?
You can trade in your old iPhone with the new one you want to buy at Apple store, it is very easy and requires less effort on your part, but it will fetch you less money. If you sell it directly, you will have to make more efforts, but you will earn more cash. You have to decide between money and time. There are some popular online stores which offer a trade in deals. Some of them are:
Amazon Trade-in Store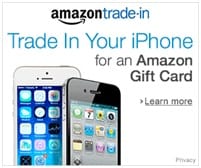 Amazon is a very trusted and popular online retailer. It offers trade-ins and provides good deals. If you want to sell your iPhone to Amazon, it is made very easy. You will earn an Amazon gift card in return.
Go to www.amazon.com/b?node=.
Select your iPhone from the trade in a list and provide other specifications. If it meets eligibility criteria, you will be given an offer. If you accept the offer, you print the shipping label, pack the iPhone and ship it.
Upon receipt of your item, Amazon will deposit the amount in your account.
You can also trade in your old iPhone for new one at Amazon. The only drawback is it offers a disjoint option list. You don't have many options to select a model and other specifications.
Gazelle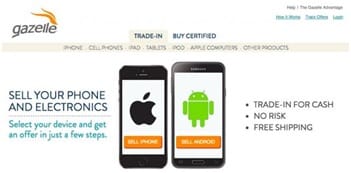 You can sell your old iPhone to Gazelle. You tell them all the details regarding your phone and they will inform you about what they can pay for it. If you like the deal, you will have to send your iPhone to the company within 30 days. The company will check your specifications, if it is different from what you have specified, it will re-estimate the price and inform you about it. If you don't agree with the offer, it will ship your product back to you free of charge.
uSell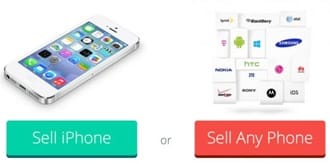 You can sell your iPhone to uSell. It is very simple to make a sell to uSell.
Go to the website www.usell.com .
Click on the Apple icon.
Select your iPhone series to form the list displayed.
Select your carrier service.
Choose the iPhone you want to sell.
You have to select the condition of the phone. Select condition of the phone. Click on "Find Offers". According to a condition of your phone, you will be offered price.
If you want to accept the offer, click on "Get Paid" . Provide payment details and shipping details.
eBay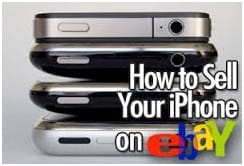 You can sell on eBay and get good money for your old iPhone. But you have to handle the sell on your own and it takes a lot of efforts on your part. If you are ready to put enough work and time, you will get a better return. You have to take into consideration following matters.
You price your iPhone competitively, specifically, if you are opting for an option "Buy It Now".
Post great photos of the iPhone, but don't hide any defects. Add one photo displaying iPhone ON, it shows that the iPhone is in working condition.
Choose fast shipping service. Mention it in the description.
Make use of keywords in title and item description. It fetches you more buyers.
You can insure your item in the event of anything going wrong while shipping.
Use keywords in your title and in your item description to attract more potential buyers.
You may also want to consider insuring your item in case anything goes wrong during shipping.
CraigsList

You can post your ad on Craigslist and you can sell your iPhone locally. It saves shipping charges and speeds up selling process.You have to keep in mind following things while posting an ad on Craigslist.
Don't write your personal or home address in the ad.
Keep the price of your iPhone reasonably and competitively according to the model and condition of your phone. You can go through ads placed by other to decide on a competitive price.
You can mention your phone number if you feel comfortable, so an interested buyer can call you or send a text message. If you have a virtual number, you can mention that.
Prefer to meet the buyer in a public place.
Beware of email scams. Someone might offer you more money if you can ship your iPhone, you might get into trouble.
In order to sell your iPhone, follow the guidelines above. Depending upon the time and efforts you want to put, make a right choice and get the best price for your iPhone.
Most Searching Terms:
Sell iPhone Online for Cash
Sell Old iPhone Instantly UK