Canon Announces New Flagship Speedlite and Macro Lens with Built-In Flash
Cannon introduced a pair of new camera accessories, Speedlite 600EX II-RT and the EF-M 28mm f/3.5 Macro IS STM lens.
The new flagship Cannon Speedlite 600EX II-RT, is an update to its flagship 600EX RT. It is built on wireless technology and supports shooting via radio and optical transmission. It fits in perfectly as part of a multi-flash setup. It includes an illuminated dot matrix LCD panel on the rear that displays useful information. It also comes with a SCF-E3 hard-type colour filter set and a soft carrying case. You can buy an optional battery pack that provides improved continuous flash firing and more flashes per charge.
The Cannon Speedlite 600EX II-RT comes with very innovative features such as:
It has built-in flash that offers head coverage of 20-200 mm.
Tilt range offered is -7 to 900 and can be rotated by 1800 in both directions.
It offers continuous flash performance improved speed which is up to 2.0 xs with new CP-E4N battery pack which is optional.
You can have radio communication range of up to 30 m with up to 15 individual and 5 group speedlites.
It is dust and water resistant.
You can make personal function settings as well as custom functional settings with 600EX II-RT.
AA batteries have life of about 100-700 flashes.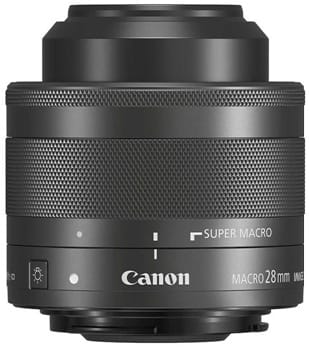 The EF-M 28mm f/3.5 Macro IS STM lens features a pair of built-in flash rings, an accessory that will make photography an exclusive experience to those who are interested in extreme macro photography. The company claims the EF-M 28mm f/3.5 Macro IS STM as the lightest macro lens for mirror less interchangeable lens cameras. It just weighs 130 g. It is equipped with two curved flash modules surround the front element of the lens. Both the lens can be lit simultaneously. You can also use one at a time, the feature will help shooters to create left or right shadows if interested.
The miniature Macro Lite electronic flash helps remove shadow and darkness from objects. Users can also adjust brightness. With the flash built into the end of the lens, it eliminates shadows being created by the lens itself, which is common with pop-up style flashes and longer lens.
You can capture subtle details of a subject with the Super Macro Mode that allows shooting at a magnification of up to 1.2 times. It also features hybrid image stabilization system and a stepping motor for quiet focusing when taking photos as well as shooting videos.
The EF-M 28mm f/3.5 Macro IS STM lens will be available at price of $299.99, whereas the Speedlite 600EX II-RT will be made available at $579.99 and both the accessories launches in June.
Most Searching Terms:
Canon Speedlite Comparison/ Review