Carry On Luggage Size
It's time to start making last-minute preparations for your trip, which is the reason why you need to print out your boarding pass and structure you're out-of-office message now. Before you begin, don't forget to look into your cargo in order to be fully ready for your flight.
Despite the fact that many travel regulations are based on the region of the world you are going to or from, carry-on luggage weight limits are largely consistent among most airlines.
Of course, it's sometimes possible for you to sneak onboard with a bag that's a bit oversize or overweight, but it's also smart to plan ahead.
In order to ensure a smooth trip, you should choose a dependable carry-on luggage that fits the space limitations.
Skip your Google browsing and follow these guides to get more information about suitcase size and be ready for your next trip, No TSA bargaining, pleading or worst of all, last minute checking required.
So let's start with below some frequently asked questions.
What Is Carry-On Luggage Size?
The difference in measurement may be infinitesimal, but the United States Air Transport Association sets an industry standard for a carry-on bag of 22″ × 14″ × 9″, including the handle and the wheels.
This will help to ensure your bag and ideally everyone else's will be able to be stored safely in the overhead bin on your flight.
The greatest advantage of traveling with a single piece of luggage is being able to take your belongings with you without entrusting them to the airline and expecting them to arrive on time in one piece.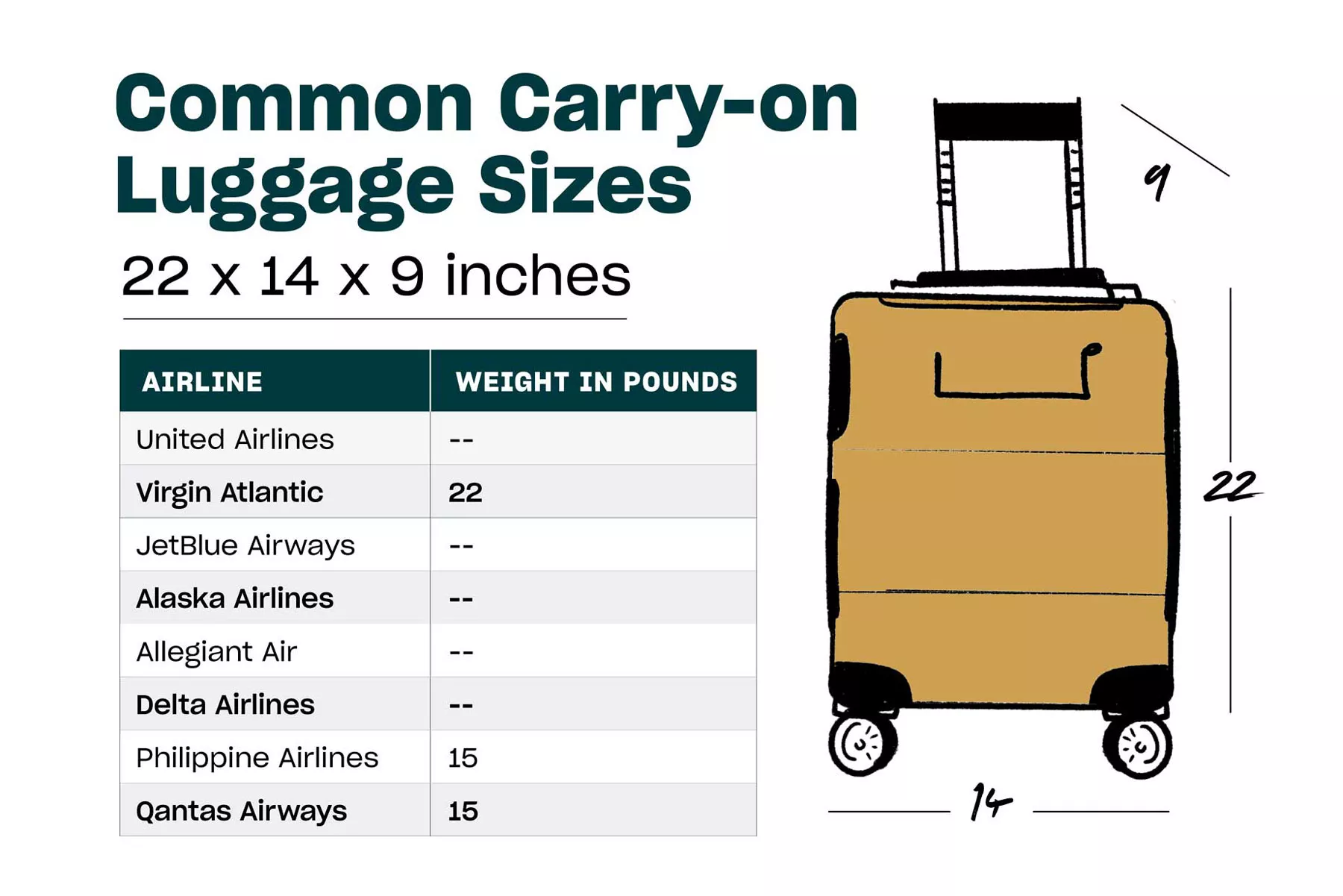 What Is The Weight Limit For Carry-On Luggage?
Many major domestic flights have restrictions on your carry-on bags provided by Delta, Southwest, and JetBlue. Just strap your bags onto your shoulders so they can be stored overhead.
Oftentimes, even if airlines market a particular pound or kilogram allowance for their websites, they likely will not weigh your carry-on luggage.
As long as your bag does not seem overstuffed, you're safe. Small commuter planes generally require that you pack lighter.
What Is A Personal Item?
In addition to your carry-on suitcase, many airlines allow a personal item. This can be a laptop bag, a purse, a briefcase, a beach bag, or anything you like, as long as it is generally small.
Personal item limits vary by airline, and some choose to omit any descriptions at all. In those cases, the general rule of thumb is smaller in height and weight than your carry-on bag.
For those traveling with cargo, like a baby stroller or diaper bag or a wedding dress and musical instrument can rest assured that the majority of airlines will allow you to carry extra baggage with these, but since it are recommended to call to confirm, the next time you're planning a trip, it will help.
What Is The Best Carry-On Luggage?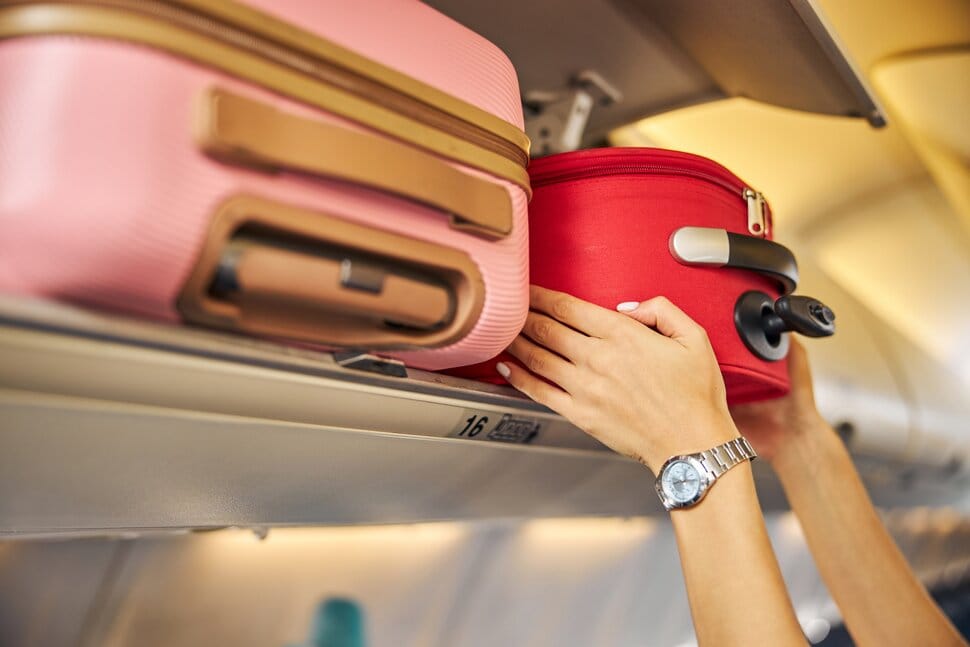 Each person has his or her own individual opinion as to which luggage brands make the best buy. It is ultimately up to you, the traveler, to decide what features to look for in a bag before you buy it.
If you just take out one or two trips a year, purchase something more affordable.
When you're trying to enhance your luggage but are unsure about a soft side or hard side choice, you may want to look into a multiple-wheel spinner or wheel-operated inline skate along with your preferred brand.
Be sure the dimensions align with the airline you plan on flying to obtain the most secure and hassle-free option.
What Is Allowed In A Carry-On Bag?
Just like with checked luggage, certain rules also pertain to carry-on luggage. Prohibited items, such as firearms, sharps, and lithium batteries, may not be included in carry-on luggage. You can also be mindful of liquids when packing your carry-on luggage.
Regardless of your destination, you can't bring containers of liquid, paste, aerosol, gel, or cream larger than 3.4 ounces through security. Make sure you check with your carrier as well so you can avoid discarding any goods.
What Is The Standard International Carry-On Size?
To ensure even baggage acceptance with popular carriers, you should get a suitcase with a base height of at least 21 inches.
It's especially vital to check luggage size limitations when flying with smaller, regional airlines outside the US as each one can set its own restrictions.
Stay on this Article to get more information about Carry On Luggage Size in different airlines and their restrictions.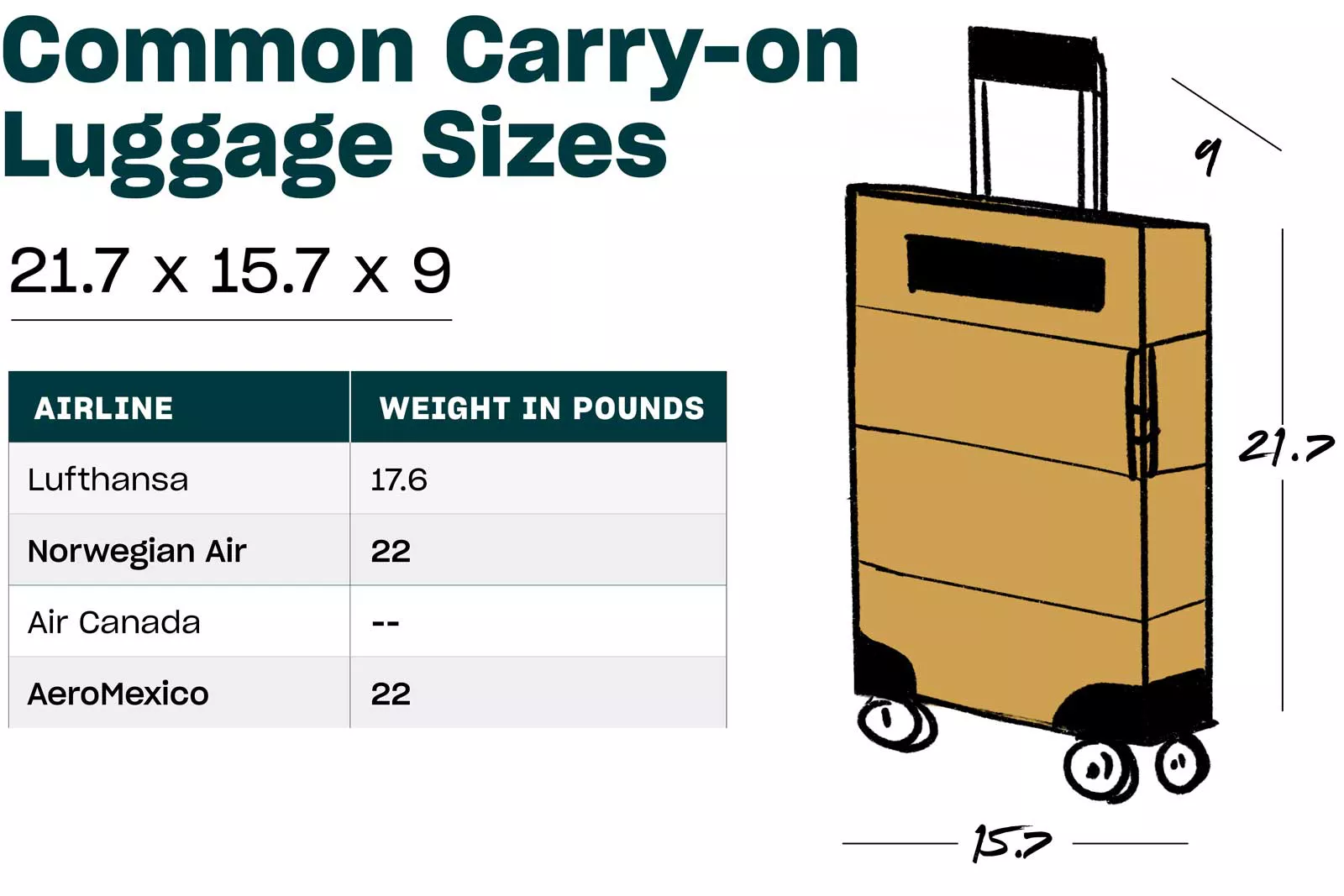 | Airlines | Carry-on luggage size | Carry-on luggage weight maximum | Personal item |
| --- | --- | --- | --- |
| Alaska Airlines | 22'' x 14'' x 9'' | not specified | one personal item such as a purse, briefcase, or laptop bag |
| Allegiant Air | 22'' x 14'' x 9''; fee applies ($10-75) | not specified | 7'' x 15'' x 16'' |
| American Airlines | 22'' x 14'' x 10'' | not specified | 18'' x 14'' x 8''; must fit under the seat in front of you |
| Delta Air Lines | 22'' x 14'' x 9'' | not specified | one purse, briefcase, camera bag, or diaper bag |
| Frontier Airlines | 24'' x 16'' x 10'' | 35 pounds | 8'' x 18'' x 14'' |
| Hawaiian Airlines | 45 linear inches | 25 pounds | one purse, briefcase, laptop bag, backpack, or similar piece; must fit under the seat in front of you |
| JetBlue | 22'' x 14'' x 9'' | None specified | 17'' x 13'' x 8'' |
| Southwest Airlines | 24'' x 16'' x 10'' | None specified | 18.5'' x 8.5'' x 13.5''; must fit under the seat in front of you |
| Spirit Airlines | 22'' x 18'' x 10'' | None specified | 18'' x 14'' x 8'' |
| United Airlines | 22'' x 14'' x 9'' | None specified | 17'' x 10'' x 9''; must fit in the seat in front of you |
Does Carry-On Luggage Have A Weight Limit?
Most airlines have the same carry-on restrictions, or at least be somewhat close. The simplest method to check out how much the excess is for the airline through which you will be traveling is to click on the particular link above for a specific airline's carry-on policy in full detail.
Each airline has luggage restrictions, and we simply advise you to stay below those limits for each company so as to avoid getting more charges for overage.
The general rule of things is that you must be able to lift your carry-on into the hand-luggage locker. As long as you can do that, you should be good to go.
Hawaiian Airlines has one of the largest carry-on weight limits of all airlines. Considering the amount of belongings you may need to bring along, 25 pounds is a low figure, so it would be wise to keep this in mind when deciding to pack.
In conclusion, it is important to be aware of Carry On Luggage Size and dimensions when traveling. By following the size guidelines, travelers can avoid delays and frustrations at the airport. When in doubt, it is always best to err on the side of caution and choose a smaller bag.
Read More Article On Wink24news.