ChampOne CI Phone at Rs 501: We can Only Advise Caution
ChampOne, a company unheard of before, is claiming a smartphone ChampOne CI or C1 priced at just Rs 501. The Company has its official website http://champ1india.com, that offers the phone with specifications better than many budget smartphones in the market. Buy Champ1 mobile online with the registration process for their first sale.
As stated on the website, registrations for the ChampOne CI are open and the flash sale will be on 2nd September. The website announces that you have to pay cash on delivery. But the most surprising thing is that if you go to the website to make the registrations, it says the company is facing technical issues with payment gateway partner and you can't make registrations for 24 hours. It is beyond comprehension to see such message when the product is to be delivered in cash!
ChampOnehas its vision and mission page displayed on its website which reads that mobile has become an inevitable part of the world and the Company wants the cell phone to reach every possible human being that is affordable and technologically advanced. The Company claims that though the Company is a newcomer, it is efficient and wants to provide an affordable tool in each hand to make them enable for global communication.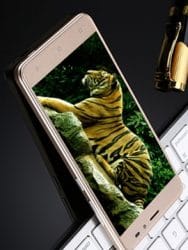 When it comes to specification, the ChampOne C1 features a 5" HD IPS display. It is powered by 1.3 GHzMT6735 Quad-core processor. IT comes with 2 GB RAM and 16 GB internal storage. The handset will come equipped with an 8 MP rare camera and a 5 MP front camera. The device includes a fingerprint scanner. It is packed with LiPo 2500 mAh for a quick charge. It offers connectivity to 4G LTE. The phone runs on Android 5.1. The phone comes bundled with charger, earphone and data cable. The smartphone will be available in White, Gold, and Silver colour options.
This is not the first time that some company has come up with such unbelievable offer. A few months back a company called Ringing Bells had created a buzz in the mobile market with a smartphone called Freedom 251 at the price of Rest 251. It had generated a lot of interest in people and the website had crashed due to heavy access within few hours of it announcing Freedom 251.
About 7.5 crore customers had booked for it and even after six months, they are yet to get the phone! Another company called Docoss X1 also claimed a smartphone at Rs 888.
One more Company called Namotel had announced a smartphone at Rs 99. Users are yet to see the light of the day when it comes to such claims.
A smartphone with specifications which ChampOne C1 is being offered is available on the market at a price of Rs 7000. And with that, a smartphone at just Rest 501 raises lots of doubts to buyers.
Most Searching Terms:
Champone CI or C1 Register
Champone C1/ ci Device Specification/ Price