$60 Gets You 6GB of Mobile Data on Verizon Pre-Paid Plans
Verizon has increased data allotments on its prepaid smartphone plans. Starting May 15th, the data limit on Verizon's $45 a month plan is raised from 1GB to 3GB, whereas the $60 plan has been doubled from 3 GB to 6GB.
It requires you to enroll in Verizon AutoPay every month to take advantage of the new increased data. If you are not enrolled in Auto Pay plan, you loose data by 1 GB; you get 2GB of data with the $45 per month plan and 5GB for $60 per month.
Verizon $45 plan offers free texting to Mexico and Canada, whereas the $60 plan offers free texting and calling to both countries.
Verizon offers a basic plan that provides unlimited talk and text for $30 a month, but it doesn't include any monthly data plan. You can access internet through Wi-Fi only. If you are a light user, you can go for the $15 per month plan, it offers 300 voice minutes, texts, or multimedia messages, you still get unlimited mobile web.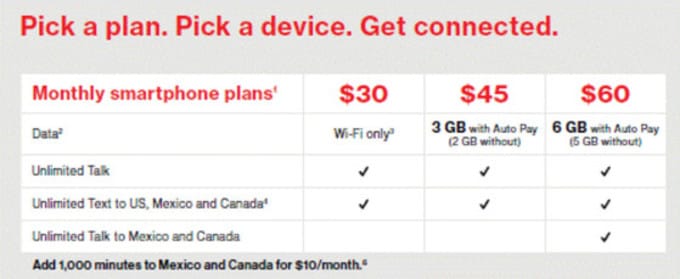 With summer around the corner, many have vacations and more data is always welcome. You can check out Verizon's new prepaid plans and enjoy more data at the same cost.
If you need extra data, you can purchase an additional 500MB for $5, 1GB for $10 and 3GB for $20. Data validity for 500 MB is 30 days, while for 1GB and 3GB, it is 90 days.
Verizon offers a few phones that you can chose from, but you can also buy plans for your own device provided it is compatible with the network.
Verizon had offered the same plans in the month of February, but it seems now that the new offer from May 15 will be permanent.
Most Searching Terms:
How to Set Up Verizon Auto Pay