Massive Fire At Biodiesel Factory Near Visakhapatnam, 8 Tanks Still Ablaze
A major fire erupted at Biomax Fuels Limited, a massive bio-diesel factory near in the Visakhapatnam SEZ, located at Duvvada, late on Tuesday around 7.30 p.m. yesterday.
There were 18 tanks of fuel and raw materials at the site, 12 of which caught fire. Six tankers which had caught fire exploded.
There were about 15 employees at the factory when the fire broke out. They could manage to escape in time. Human lives could be saved.
40 fire engines were sent immediately to control the fire. Twelve fire tenders of the Indian Navy including foam types have been deployed to put out the blaze. A team of doctors and quick reaction teams were also rushed to the spot.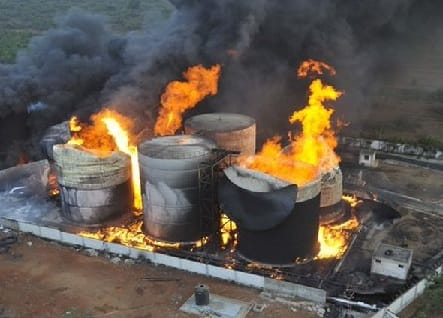 Though it is under control, fire was still continued to rage more than 17 hours after it broke out and fire fighters continuously struggling to tame the flame. The fire fighters said the tanks need to be burnt before the fire could be put out. An aircraft of the Indian Navy conducted an aerial recce over the facility in the morning and confirmed that eight tanks were still at blaze. Good coordination among the fire fighting team and immediate action managed to save six of the tanks from the blaze.
The cause of the fire is not identified. It is estimated that but it is believed to have resulted in a loss of around Rs.120 crore.
Human Resources Development Minister Ganta Srinivasa Rao rushed to the scene. Chief Minister N Chandrababu Naidu talked to district authorities, police officials the naval authorities and asked them to apprise him of the situation regularly.
Most Searching Terms:
Biomax Fuels Limited, SEZ at Duvvada
Blaze at Visakhapatnam Bio-Diesel Plant