Epic Wildfire Threatens to Engulf Canadian City: Fort McMurray Satellite Video
A raging wildfire has engulfed the western Canadian oil city of Fort McMurray. It has caused evacuation of as many as 88,000 from the city on an emergency basis. You can see here, Canada Wildfire Satellite Video and Status Map.
The fire has almost swapped 1600 structures in the blaze and the fire conditions may take more structures in its blaze. A new school building in the heart of Fort McMurray had been destroyed and more than a dozen structures in residential parts of the town caught on fire. It has charred 18,500 acres. It seems the whole town is at the verge of being doomed.
The evacuation order caused traffic jam on the highway on Tuesday and it was forced closed. The highway closure on Tuesday forced most evacuees to drive north away from major cities. The highway was reopened Wednesday morning. However, evacuees were left stranding as fuel had run out. Number of people bunked down in arenas, hockey rinks and oil work camps, running short on fuel and food.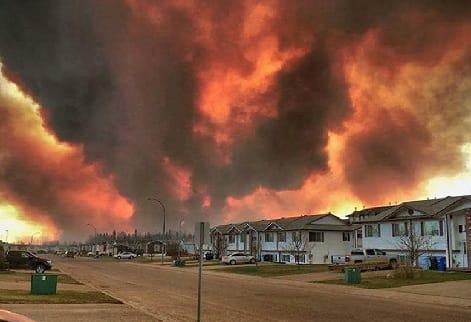 Fire fighters are struggling to control the blaze, but there are no signs of the fire being abated. A huge cloud of black smoke was visible from as far as 60 km from the town.
Wildfires were also spreading in neighbouring British Columbia on Wednesday that took 9,000 hectare into its blaze in the province's northeast. It is being feared that it might spread across the border to Alberta, the B.C.
According to the authorities, there are no reports of casualties from the blaze itself, but fatalities are reported in at least one car crash among the evacuees.
The Canadian Prime Minister Justin Trudeau has offered all possible help and said that the military can deploy air force planes as needed. Fort McMurray International Airport has suspended all commercial flights. A state of emergency has been declared in the province.
The massive blaze is the costliest natural disaster taken place in Canada. This is the second major blaze in the oil sands region in a year. Earlier in May, wildfires had caused the evacuation of hundreds of workers from the region, and Alberta's oil sands output was cut by 9%.
The wildfire's knock-on has affected on oil sands operations. Major oil sands facilities are not in the path of the flames. But on Wednesday five companies were reported to reduce production either because workers had been affected by the evacuations or due to precautionary pipeline shutdowns.
Most Searching Terms:
Fort McMurray Wildfire Status Map Canada