Amazon Echo Dot Price and Reviews
Amazon has now introduced new Echo Dot, the Alexa army. It has all the same voice recognition technology and voice control capabilities just as the Echo. It has a small inbuilt speaker that doesn't have a big sound, but it can be connected to any dumb or old large speaker and the Echo Dot will turn it into the smart one.
Echo Dot is a secondary device from Amazon for Echo on or Fire TV. Amazon already is selling a device called Echo available at a price of $180. Amazon's Echo is one of the best devices that let you control smart home devices such as lights, locks, thermostats through voice command. You can also set alarms, timers, read the news and buy things from Amazon just by giving simple voice commands. It has a wireless speaker that lets you listen to Amazon's music, Pandora and Spotify. The new Echo Dot is available at $90, just half the price of the Echo.
Echo Dot is a standalone device and you don't need Amazon's Echo to use it. But Amazon has not made it available for sale to everyone,you can order it through an existing Echo or Fire TV. You can set it up anywhere and every room in your house and your house will turn into a voice-controlled house. If your house is small, then you don't need to have more than one Echo Dot. It has all the features of the Echo but is a smaller version of it. It is about 1.5 inches tall and 3.25 inches in diameter. It is made from matte black plastic, you won't find dust or fingerprints on it. The base is weighted so that it will remain in place.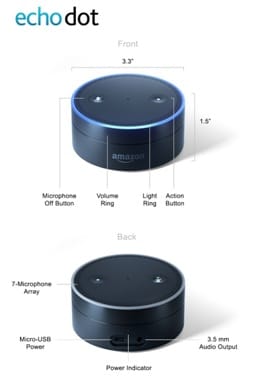 You have to set up Echo Dot. It is a simple process and takes few minutes. You have to plug in an auxiliary cable besides plugging in a power chord. Then you have to get it connected to Wi-Fi though Amazon's AlexaiOS or Android app. You use the Alexa app to make settings for the Echo Dot, managing its skills or connecting it to third-party services. You can use the app to voice train your Echo Dot so that Echo Dot can understand you better.
The Echo Dot looks like a big hockey puck with two buttons on its top. One button is for disabling the microphone, while the other is for enabling Bluetooth pairing. You can adjust the volume just by rotating the top of the device. When you rotate the top, LED on the ring around it lights up to help you see the sound levels. You will also find a multi-directional microphone, a microphone toggle button and action button on top of it.The Echo Dot sports a small built-in speaker.The most appealing feature of the Echo Dot is its ability to connect to a beefier system. It is capable of turning any speaker into a smart speaker. The Echo Dot sits atop the original Echo and it houses the same beam-forming seven-microphone array. The device is very accurate in hearing your commands and responds great even amid the somewhat noise.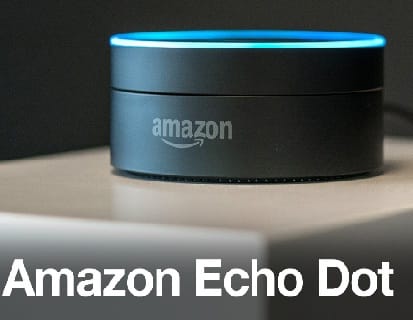 Most users feel that Echo Dot connected to any speaker produces wonderful quality sound. The only issue is that you will have to turn speakers on if you want to listen to music, for the Echo Dot to respond to voice command, its inbuilt speaker works fine and you don't have to worry about energy conservation too. The Echo Dot offers easy way to switch between speakers.The only drawback is it doesn't support optical audio output.
It is very easy to interact with Echo Dot. You can have human-like conversations such as "Alexa, what will the weather "today afternoon?". Alexa will respond you the way you would have expected. You can train it with variety of skills to interface with third part apps. For example, you can say something like, "Alexa, tell grocery store to add eggs to the shopping cart" – where a grocery store is an app on you Android or iOS. You will be surprised that you don't need to command it in exact words;Alexa is smart enough to figure it out.
The Echo Dot is a niche device from Amazon, small but powerful. It can be connected to expensive gear. Echo Dot is a perfect virtual companion to those who love Alexa and have bib speakers.
Most Searching Terms:
How Much is an Alexa Camera?
Echo Dot Price in Store
How to Connect Echo Dot