HTC Vive Price/ Specs/ Reviews:
HTC-led Virtual Reality Venture Capital Alliance, VRVCA is committed to VR ecosystem and has launched an Accelerator Program for virtual reality (VR) development known as 'Vive X'. It will invest $100-million aimed to cultivate and foster VR development environment around the world. Here we discuss on HTC vive price, specs, and reviews. The program will offer expertise and mentorship to the VR developers. The company wants to support the VR start-up community with innovations in the VR world.
HTC has announced a list of first 33 companies to join the program. Cher Wang, Chairwoman, and CEO of HTC said that they were very excited about brightest and most creative minds to be a part of the Vive X. She also said that HTC believes that Virtual Reality will shape the future and needs a healthy eco-system to reach to the mass market and through HTC Vive; the Company wants talent across the planet to create compelling and interesting content.
HTC has launched a pilot program in three cities: Beijing, Taipei, and San Francisco. In these cities, Vive X will provide a base to start-up groups during the period of their initial growth by providing them necessary funding, VR know-how, coaching as well as office space.
It will support the companies which are producing content, tools, accessories and applications to enhance VR ecosystem as well as providing an enriched experience to end-users.
HTC Vive X program is open to companies interested in developing VY content and one can apply at its website www.htcvive.com.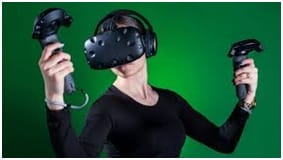 HTC Vive has already developed and released a virtual reality headset on April 5. The headset is elegantly designed and employs 'room scale'technology. It is equipped with 70 sensors and can turn a room into 3D space and allows you to navigate in the virtual world naturally, you can walk around and manipulate objects precisely using handheld controllers and immerse in the VR environment.
HTC Vive has been proved a very versatile device and has won 22 CES awards so far. The headset has a resolution of 1080×1200 and refreshes at 90 Hz. It has two screens, one for each eye. The device operates in 15 feet by 15 feet space and is capable enough to track user's movement with the precision of sub-millimetre. It is equipped with two lighthouses that help avoid occlusion problems. It can identify any static or moving object with its front facing camera that acts as a safety system and helps users from obstacles.
Besides gaming, HTC Vive will find its applications in many fields that include applications in healthcare, education, space applications and much more.
HTC Vive offers an open policy to the independent developers provided it contributes the VR community healthy content.
The VRVCA is the single largest to offer venture capital to VR start-ups and has a lot more to offer to the VR developers.
Most Searching Terms:
HTC Vive Price/ Specs/ Reviews
Htc VR Headset Price