Kolkata's flyover tragedy photos: At least 14 dead in collapse, 150 feared trapped
At least 14 people were killed and several injured in North Kolkata when a Vivekananda flyover bridge which was under construction collapsed today afternoon. It is a densely populated area near Ganesh talkies of BarraBazar. People were moving along below the bridge. 150 people are feared trapped under the debris.
Nearby residents, firefighters, rescue teams and Police immediately rushed to the place and tried to help the people trapped. There was very little coordination among them. Four National Disaster Response Force (NDRF) units, each comprising of 40-45 members, have rushed to the site.
Kolkata Flyover Tragedy Live News Video From Location



Vivekananda flyover bridge Collapsed In Congested Area: Kolkata Video



Kolkata (India) under construction bridge has been collapsed



Army has been called and four columns of rescue personnel have already been deployed. Three medical teams each comprising of doctors, nurses, two army ambulances have already rushed to the site. One team of army engineer with special equipment have reached there. Disaster management and trauma care teams have joined the rescue and relief operations.
Chief Minister Mamata Banerjee has reached to the site and overseeing it. She has displayed her concerned to the victims. Union Home Minister Rajnath Singh has shown heartfelt condolences to the families of the deceased. He is being apprised of the situation continuously. Rahul Gandhi also has expressed his condolences.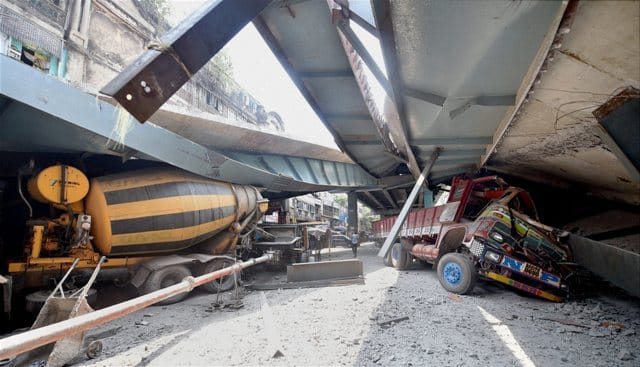 Rescue and relief operations are underway. 77 injured have been rushed to the hospital so far.
About 100 metres of the bridge has been collapsed. According to the eyewitnesses, there was a loud explosion followed by crashing sound. There is a huge amount of tangled metal and concrete at the spot. 7 cranes have been rushed to the spot to move the debris. The area is very congested making the rescue operation difficult. Helpline Number 1070 has been set up to help the kith and kin of victims.
The fly over named Vivekananda Setu has been under construction since 2009 and has missed several deadlines for completion from the authorities. Construction projects in India are plagued by lax safety standards and many times meet such tragedy.
More Searching Terms:
Ultadanga flyover Kolkata collapse
Kolkata's flyover accident video and photos