Win $5,000 & PC Plus Points by Loblaw Guest Satisfaction Survey
Loblaws Survey Contest Canada: Loblaws values its customers and their opinion. To serve them better and to find out how satisfied they are, the company conducts Loblaw Guest Satisfaction Survey. As an appreciation, survey participations are entered to sweepstake and as a customer, you stand a chance to win $5,000 cash prize and can earn 1 million PC Plus points as a credit every month.
Loblaw Companies Limited runs franchisee and supermarkets in Canada and is the largest food retailer in the country. It was started in 1919 and is headquartered in Brampton, Ontario. It sells grocery, general merchandise, household items, baby products, pharmaceuticals, clothing, cellular phones etc. it also provides financial services.
Loblaws Customer Satisfaction Survey Sweepstakes Rules and Guidelines
It is not mandatory to make any purchase.
If you have a number of Loblaw purchase receipts, you are recommended to use the recent one to take the survey.
You must be a legal resident of Canada and above the age 18 to be eligible to take the survey.
One entry per month is limited per person.
Loblaw employee as well as their immediate family members can't participate in the survey.
PC Plus member only can earn points.
If you win in the sweepstake, you will be notified by phone or email within 4 business days of you submitting the survey. If you win, you will need to submit required documents within 5 days. Once the documents are submitted and if you have won a cash prize, you will receive it within 4 to 6 weeks; whereas in a case of earning points, it will be credited to your PC Plus online account.
Loblaw Store Opinion Survey Sweepstakes Canada Entry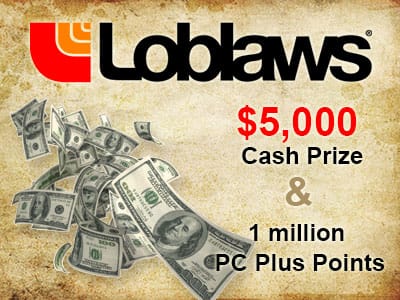 It is very simple to participate in the customer satisfaction survey. You can take the survey online, by phone or through mail. On the successful completion of the survey, you will be entered to the monthly sweepstake.
If you want to take the survey by phone, make a call at 1-877-234-2322. Follow the Interactive Voice Response system and complete the survey.
For mail-in, on a plain 3″x 5″ piece of paper, write your name, email address, mailing address and phone number headed by "Loblaws Inc. Customer Satisfaction Survey" and send it to the address:
Loblaw Companies Limited Customer Satisfaction Survey,
Ipsos Reid, 160 Bloor Street East,
Suite 300, Toronto, ON M4W 1B9.
How to take Part in Loblaws Survey contest Ca Online
Go to the website at www.storeopinion.ca.
Select the language in which you want to take the survey.
Go through all the information displayed on the new page and then click on the "NEXT" button to continue.
If you crossed 18 years of age, click on the "Yes" button and you will proceed with the survey, otherwise it will be terminated.
If you have a receipt with the invitation code printed on it for taking the survey, click on "Yes" button, otherwise, clock "No" button. Select a province from the drop-down list. Click on the "Next" button.
If you have survey invitation code on your receipt, you will be asked to enter it in the space provided. Whether you have the invitation code or not, you will be directed to take the survey.
You will be asked simple questions regarding your shopping experience with Loblaw. Answer the questions and complete the survey.
During the process, you will be asked whether you want to enter the sweepstake. To stand a chance to win the prize, select "Yes". Agree to the rules.
Provide your name, phone number and email address. You will be notified if you win any prize through email and the phone you specified.
If you are not a PC Plus member yet, you can go to www.pcplus.ca and get enrolled.
Finish the process.
If you need any help, you can call the Loblaw Helpdesk at 1-800-296-2332.
For any other information, you can visit Loblaw Official Site at www.loblaw.com.
Most Searching Terms:
Loblaws Store Opinion Survey
Loblaws Survey Contest Canada