Mahila e-Haat e-commerce Marketing Platform for International Selling
A great visionary initiative in a bid to encourage woman entrepreneurship in India and provide them an online digital marketing platform is "Mahila e-Haat".This is the first time women of India are provided with such online platform. Here we discuss on all point such as, how to open e haat bazaar account, how to register on e-commerce portal Mahila e-Haat for International selling and try to know women e-haat wiki and details.
The web portal Mahila e-Haat was launched by Union Government of India on 7th June, just one day ahead of woman's day. It is a joint initiative taken byWomen and Child Development Ministry and Rashtriya Mahila Kosh, RMK with a view to strengthening socio-economic empowerment of women and provide them support as well as a platform for their creativity. It is expected that there would be more than 10000 Self Help Groups (SHGs) and 1.25 Lakh women beneficiaries from the web portal. The e-Haat initiative is a part of flagship 'Digital India' and 'Stand up India' initiatives by Prime Minister, Mr Narendra Modi.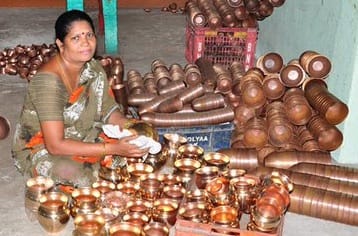 Women can display their products on e-Haat for sale. It will help them establish direct contact between sellers and buyers. This initiative can be path-breaking and game changers for many women who have a skill and wanted to do something but lacked inspiration and right platform.
Mahila e-Haat is the first stage of three stages for women empowerment initiative. The second stage will integrate e-Haat with e-commerce portal which will provide them with a larger platform. There is a plan of Women's Entrepreneurs Council in a third stage which will lead it to further expansion and develop into an institute.
How to join e-Haat
Any Indian woman who is of the age above 18 or Women Self Help Group (SHGs) can join the e-Haat for marketing their products/services provided they have indemnified RMK regarding any transactions. The product that can be displayed includes clothing for men, women and children, bags, jewellery, gift items, decorative items, carpet, sarees, dress fabrics, grocery, staple organic items, pottery, basket, natural products, file folders, industrial products and much more. The product along with a photograph, details of the product and contact details is displayed on e-Haat. Services provided by women such as tailoring, embroidery, applying Mehndi etc. can be included. All the products are to be displayed with Mahila e-Haat logo on it. The logo can also be accompanied by your product brand logo.
One can handle the complete business through a mobile phone.
There is no joining fee until December 2016. Afterwards, you might be charged a one-time nominal fee.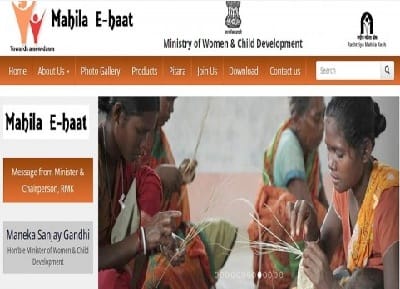 It is very simple to join e-Haat. Following given are the steps on how to do so.
Go to the website at www.mahilaehaat-rmk.gov.in/en .
Click on the tab "Join Us".
An online form is displayed. Type in required details such as a name of the individual/SHG, aadhar number, contact address, e-mail address and contact number, website or domain name, whether RMK beneficiary or not and select a category of the product. Type in validation code and submit the form. Your application will be inspected by a committee.
You can also write a letter on Rashtriya Mahila Kosh, B-12, 4th Floor, Qutab Institutional Area, New Delhi -110016. The inspection committee will decide on product and services for display and their decision shall be considered as final.
If your product/service is selected, you will be contacted by RMK. You will be asked to send your product details, acceptance letter according to the terms and conditions stipulated by RMK regarding the display of the products on Mahila E-Haat. You can download relevant forms from the website. You just select 'Download' tab on the main menu and select the form to be downloaded.Fill up the form and do as instructed.
The Mahila e-Haat will go a long way to propel women towards financial independence and enable them to exercise good control over their finances. It will help meet the goal of financial inclusion of women initiative.
Most Searching Terms:
E Haat Bazaar Account
Rashtriya Mahila Kosh Website
Mahila E-Haat Online Marketing Platform for Women Entrepreneurs
E Haat Bazaar Ministry of Women & Child Development
Mahila E Haat Wiki and Details
E-Commerce Portal Mahila e-Haat for International Selling
E Haat Dhampur Platform