'I Am Not Fighting Gogoi But Gareebi', Says PM Modi in Assam
Prime Minister Narendra Modi heads for BJP election campaign is Assam and is to address seven rallies in two days. While addressing a rally in Tinsukia today he gave a new slogan "I am not fighting Gogoi but Gareebi (poverty)". Mr. Tarun Gogoi is Congress Chief Minister of Assam for the last fifteen years. Here you can watch PM speech video of Tinsukia, Assam, date 26th March 2016.
PM has projected Union Minister for Sports and Youth Affairs Sarbananda Sonowal as Chief Minister of Assam if elected to power. Mr. Sarbananda Sonowal is MP from the constituency of Tinsukia in Assam itself.
Video news On: Not fighting Gogoi, am fighting Garibi in Assam

At a rally, Mr. Modi tried to bond with the people of Assam by saying that it is tea from Assam that he sold in his childhood days. He said he wants to work for the welfare of the people of Assam and he is concerned with the poverty of the people in the state as Assam is one of the five poorest states of India.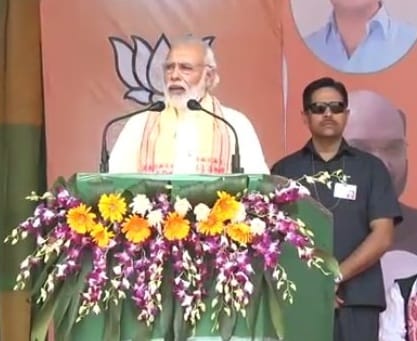 PM Modi also said that his party has the only agenda for Assam is development, speedy development and overall development. He urged the people to give BJP a chance to work for next five years.
According to him, there are enough funds for the state, but most of it go unused. And now is the time that the people should ask the current Congress government what it did in last 15 years.
BJP party President Amit Shah and other ministers, as well as party leaders, have plunged into the election campaign in Assam and addressing rallies in various parts of Assam. They are targeting Congress for poor conditions of the state of people living below poverty line and without access to clean drinking water, electricity increased maternal and child mortality rate and pathetic conditions of tea workers there.
Assam is to go to the polls next month. The election will take place in two phases on 4th and 11th April. There are 126 assembly seats in Assam and BJP is contesting for 91 seats. For some of the seats, the party has joined hands with Asom Gana Parishad and Bodoland People's Front. The counting will take place on 19th May.
More Searching Terms:
Narendra Modi Says I am not fighting Gogoi but Gareebi (poverty) in Assam
I Am Not Fighting Gogoi but Poverty and Corruption Say, PM Narendra Modi
Poll-Bound North Eastern State Rally in Tinsukia