The New Yoga Book by Lenovo is Ultimate 2 in 1 Productivity Tablet
Nowadays we have been hearing of newly launched laptops, Chromebooks, and tablets. We talk about all type of innovations regarding them. But wait, if you feel you have seen great designs, structures, and innovations you have to see the new Lenovo Yoga Book. There has been nothing like this earlier, launched by any of the laptop, tablet or such device manufacturing companies. It successfully impresses us in all aspects. If you think we are exaggerating, read the complete review and you yourself decide about the new Yoga Book.
First of all, it comes in two different versions. One that has Android version which will be available at the price of £449 and the other is the Windows version available at £549. It is available in two colors- Gunmetal Grey and Champagne Gold.
The new Lenovo Yoga Book (Android) has a 10.10-inch display that comes with a resolution of 1200 pixels by 1920 pixels. It is powered by 2.4GHz quad-core Intel Atom x5-Z8550 Processor processor. It has 4GB of RAM and has internal storage of 64GB which can be further expanded through SD card up to 128GB. It runs Android 6.0 and is powered by an 8500mAh battery that is not- removable. It measures 256.00 x 170.80 x 9.60 and weighs 690.00 grams.
Lenovo Yoga book has a 2-megapixel front camera and 8-megapixel rear camera. For connectivity purpose,there are Wi-Fi, Bluetooth, 4G. Sensors on the tablet include Proximity sensor, Ambient light sensor, Accelerometer, and Gyroscope. Battery life is claimed to be 15 hours. Moreover, the charging is fast which is capable of charging a battery from 0 to 80 percent in just 50 minutes.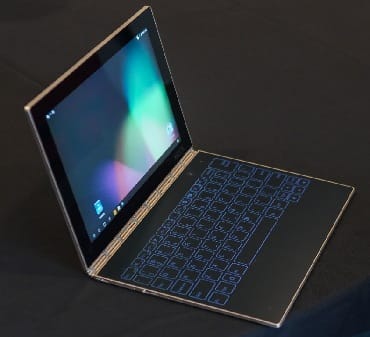 The new Yoga book has Instant Halo touch-based keyboard. The keyboard is a flat surface that comes up as a keyboard only when required. Magnesium and Aluminium alloy is used for the casing and it is only 4mm thick and when completely shut, it is 9.6mm thick. One can easily flip the screen behind the keyboard and hence it can be used as a tablet. The credit for this goes to 130 piece hinge.
As per the tests, it has been proved that it is possible to type 151 characters per minute with the keyboard of The Yoga Book. However, the speed can further be increased due to predictive text that comes up just like Android or iOS keyboard. There are popping suggestions that can be chosen according to the need. It auto completes and auto correct as one types. There is a trackpad below the keyboard. It supports two finger gestures. The Windows version has two buttons whereas the Android has one button. These are two distinct areas on the touch surface, left one is for left click and the right one for right click.
You can use real pen and paper to write down what you want and Yoga Book will digitize it right in front of you. This way you can write, organize, merge and share your notes and thoughts in seconds. Lenovo NoteSaver application allows you to use the Yoga Book as a smart paper pad.
When the keyboard is off, you can use the Create Pad and Real Paper in the way you use pen and paper in daily routine. The Real Pen is able to detect the pressure of 2048 levels. The Real Pen do not need charge ever, it works without charging.
Due to 360-degree hinge present, the Yoga Book can be used in different modes: Create Mode that helps taking note and drawing, Watch mode for entertainment purpose, Browse Mode to use it as a tablet and Type mode to be used as Laptop.
Full HD display and Dolby Atmos speakers give its users immersive and cinematic sound.
The windows Version runs on a 64-bit version of Windows 10. Android version has Android 6.0 for now but a company will soon upgrade it to Nougat. It is possible to have four windows at the same time.
Lenovo was founded in 1984 and it acquired PC business of IBM in 2005. It became world's top PC maker in 2013. Now with the launch of Yoga Book, it has gone many steps ahead of its competitors. According to Lenovo, they have been working on Yoga Book for years.There has been nothing like Yoga Book before but surely other companies will too bring gadget like this in near future. So decide what version you wish to buy of Yoga Book – Android or Windows and give it a try. It's worth it.
Most Searching Terms:
Used Lenovo Yoga 13 RAM Upgrade