Pay Discover Card Bills Online: The Discover Card is the Credit Card which is issued primarily in United States (US). It is the third largest credit card brand in the United States. About 50 million people hold this Discover Card. It is issued by the Discover Bank.
Official Website:
https://www.discover.com/
How to Pay Your Discover Card bills Online?
Card holders have many options to make the online payment of their Discover Credit Card bills. Normally people make their payments by mail or online. But other than that Discover provides you many more convenient ways for making easy and quick way.
Payment options of Discover Card bills are given as prescribed below:
1) Online-free Mode:
To make an online payment you are required to visit the official website of Discover. Here a cardholder should first of all register for an online account just by following these few steps as provided below.
Log on to the website https://www.discover.com/
By logging on to the site you can see the option of "Log in" at the top. There is a link available as "Register Now" at the bottom of this option. Click on that link.
By clicking on that it appears registration page before you. First of all, you are required to provide your "Account Information" like Discover card number, its expiry date, date of birth of the primary card holder, etc. Fill this information very carefully.
After providing all information, click on the button "Continue".
Thereafter, select your "Username" and "Password".
At the end, you have to set your account preferences as to complete the registration process. Then you will receive confirmation shortly by email.
Once you create your personal account then you can access it through the Discover website just with login by entering your username and password.
Thereafter click on the option of "Make a payment" and enter the amount of your credit card bill.
Online free service is available by 24/7 to Discover Card holder for making its bill payment. You can pay when it's convenient to you and also save time, envelopes and checks charges. For more details visit the link as given below.
https://www.discover.com/credit-cards/help-center/payments/making-payments-important-info.html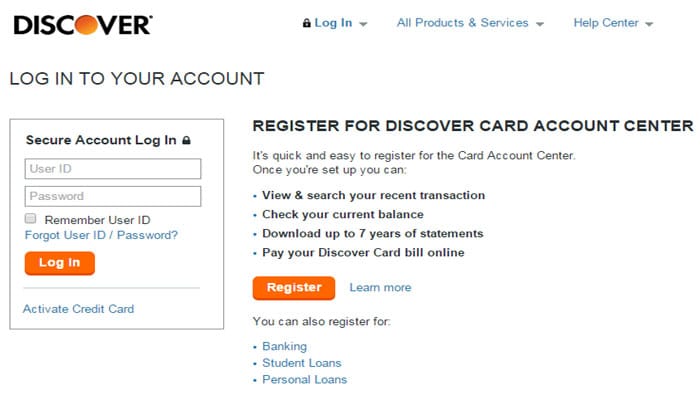 2) By Phone:
For making payment of Discover credit card bills you can call 1-800-347-2683 by 24/7. You are required to provide your bank routing, bank account number, and transmit information over the phone. You have to make payment by 5.00 p.m. Eastern Time than it will be credited that evening and if you make payment after 5.00 p.m. Eastern Time, it will be credited to your account the next day.
3) By Mail:
If you prefer to make payment through email, payment would be made only by using a personal check, cashier's check or Money Order. Please remember that never send cash.
You have to write down your customer account number on the 'memo' line of the check or money order. Remember that mail should be sent at least 7 to 10 days before the due date of a bill as to avoid late fees.
You should send your mail with payment to the address as provided below.
Discover Financial Services,
P.O. Box 6103,
Carol Stream, IL 60197-6103
4) Direct Payment:
One can make payment of their Discover card bill by direct payment. It means payment is automatically deducted from your account every month. It will take around 45-60 days to enroll for the direct payment to go into effect. At any time you may change the terms of your plan. For more details, you can call at 1-800-347-2683.
5) Via Western Union:
One can also make payment of the Discover Card from any Western Union location. Usually, payments received through are credited within 24 hours. You can make payment by just following these steps as given here:
First of all, you are required to find out Western Union location nearby you. You can find it easily by calling at 1-800-325-6000.
You have to provide Discover Card Company's code city name, WESTPAY, IL and your account number.
Thereafter you should pay your bill amount. It will be credited to your account in about 24 hours.
Remember that you are allowed to do a transaction is up to $ 5000. You are charged an upfront fee to process your payment. Fees must be paid in cash.
6) At a Participating Sears Store:
You can also make your Discover card payment via Sears Store. You should ensure that whether your local Sears store accepts card payment or not. You must paycheck and the account number must be written on the check. Sears store doesn't accept payment via cash, cashier's check or money order. You must keep your receipt to confirm your payment.
Conclusion:
Discover Card holders have so many options to make their payment. You can pay anyway as you prefer. You just have to read the instructions as given above and make your card payment easily. If you want to know more information please visit the official website of the Discover.
Most Searching Terms:
Pay Discover Card Bill Online