How to Download apk and Play Pokémon GO Game?
Pokémon GO is a mobile game developed by the PokémonCompany and reality mobile game developer Niantic. It is a mobile game based on augmented reality that is driving mobile game lovers across the world crazy and taking them to the places being adventurous. Here we get a full guide on how to download Pokémon Go apk and android mobile app. The game can be played on Android smartphone as well as iPhone by downloading an app called Pokémon Go via Google Play and App Store.
The Pokémon Go mobile app has already been rolled out in US, Australia, New Zealand, Japan and Germany and now the UK! It will be released in other countries soon. It can be downloaded and played for free. But you can buy in-game currency called Pokécoins which will let you unlock special items within a game. You don't have to pay any cash for it.
As the name of the game implies, Pokémon just goes park, shopping areas, countryside, you can say all around the world and plays pranks! Players have to capture the small monsters and it is so much fun as well as a challenge to locate, catch and battle with it. It makes you active and makes you step out of house exploring your local places and cities in order to find and catch as many wild monsters as you can.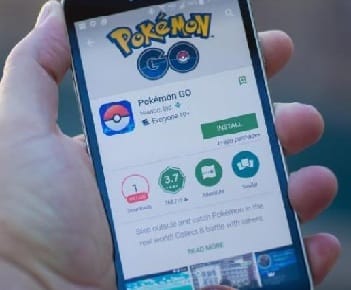 The app on your smart device guides you and will vibrate if you are near a Pokémon. Once you locate it, you just throw a Pokéball to target it on your device. It keeps the players so much engrossed chasing the Pokémon. The players can connect to the other nearby Pokémon players in this endeavour!
How to Play Pokémon GO Mobile Game
Once you have already the Pokémon GO app downloaded on our mobile, you just have to launch it by just tapping on it. For the first time launch, you have to select clothing for your avatar. You can't change it later.
You will be offered three Pokémons, out of which you choose one by tapping on it. You have to catch this. On your screen, you will be shown it somewhere near by you. You have to run after it to find it out! As soon as you locate it, you have to flick a Pokéball at it. You just have to target a small circle that appears over the head of the Pokémon. The Circle is displayed in different colours that signify different meanings, red meaning it is hard to catch, orange for moderate and green for an easy catch. If you have much patience, you can start your game with Pikachu as your Pokémon. To select it, you ignore the Pokémon offered to you and walk away when you launch the game. If you do this for four times, you will be offered Pikachu.
Your mission starts now! You just step outside, find the Pokémon. PokémonGO will show a map of near locations where you will have to look for the Pokémon. You will see something like leaves rustling on the ground in the wild. A bar displayed at the bottom of your screen will display a number of footsteps that shows how close you are nearing the Pokémon, no footsteps mean you have got it! If the Pokémon is greyed out, it means you haven't seen it before and is not included in your PokéDex.
There are different types of Pokémon and accordingly you will have to go places to find them. For example, you will find water Pokémon at the river side or near a lake, normal Pokémon will probably be found at park or shopping area or tourist's places in a town. Pidgeys and Rattatas are very common Pokémon but quite powerful Pokémon. You can see which Pokémon you have at any time by clicking the PokeBall at the bottom of the screen and choosing Pokémon.
The Pokémon GO earns you points. You are awarded 100-star dust and 100 XP points for every Pokémon you catch. If you catch a Pokémon that you haven't seen before, you will be rewarded with an extra 500 XP when the Pokémon is added to the PokéDex. If you throw a Pokéball at a Pokémon in a nice way, you also get extra XP by completing the throw. You earn a number of candies too, which can be used to power up or evolve a Pokémon.
It happens many times that you run out of Pokéballs. You will find PokéStop in cities and towns, from where you can buy some with coins. You can also make an in-app purchase of coins. When you level up, you also get some coins.
There are different levels in the game. 1000 XP takes to one level up till you reach level 10. From 11th, you need 10,000 XP to move a level up. Once you reach the 5thlevel, you are free to choose your team from Team Instinct (yellow), Team Mystic (blue) or Team Valor (red). And you can visit a gym. As a player, your main concern is to power up your Pokémon which you can do from level 5, so you can make them powerful enough to win gym battles. There are four types of the gyms, which are yellow, red, green and grey. It is recommended that if you power up the Pokémon before evolving, it will help you earn more. Pokémon Go allows you to power up your Pokémon, evolve it or even trade a Pokémon. For that you just have to select the Pokéball icon, tap the Pokémon, you are provided several options, you can select the one you are interested in.
If the colour of your team and that of your gym matches, you can enter and train your Pokémon to make it difficult for your rival team to win the gym. In a gym battle, whether you win or lose; the prestige of the gym increases and you get XP. During the battle, Pokémon loses HP and its health can be improved with a Potion, Super Potion or Revive.
The main aim of the playing Pokémon Go is to catch all the Pokémon. You can hold as many as 250 Pokémon and 350 things in your inventory.
The game takes you to the real world and is catching the fancy of millions across the globe.
Most Searching Terms:
Pokemon Servers Down/ Map Hack Android
Pokemon Go Plus Pre Order/ Release Date/ Amazon UK
Pokemon Showdown Server Shutting Down
Pokemon Go Tips and Cheats/ Tricks Reddit