Priyanka Chopra Finishes Schedule One Shooting Of `Baywatch'
Priyanka Chopra had made her international debut last year by working in American television series `Quantico', where she played the role of FBI agent. She also made a remarkable presence in Oscars and presented the best editor award category to` Mad Max : Fury Road'. Her fans very excited to see Priyanka Chopra's Baywatch first look photos or pics and PC's Hollywood movie trailer video.
It has been declared earlier that Priyanka will be the part of Hollywood venture `Baywatch'. Priyanka mesmerized everybody in Oscars award function in white dress by Lebanese designer Zuhair . She then attended the after party in silver gown and immediately left for airport to catch a flight to Miami.
Priyanka is playing a villainous role,Victoria Leeds, in the movie `Baywatch'. On the first day of the shoot Priaynka posted a picture of bucket of Baywatch goodies on twitter and captioned it as `Everything you need on a beach… And day 1 on set! Amazing! Everyone is so great! Yay team #Baywatch'.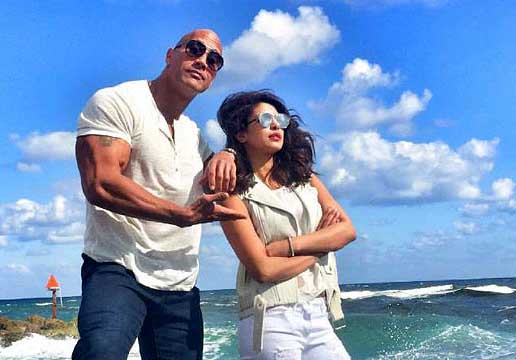 The actress, next day, posted her photo on instagram looking out of the car window on instagram and captioned it as `Something magical about Miami last night shoot ! being bad is so good! #Victoria Leeds you will be missed #Baywatch… until next time . This concluded that Priyanka is done with her shooting of schedule one.
Dwayne Johnson, Co-star of Priyanka in Baywatch took to Instagram to praise the actress. He posted a picture of them saying `Every great story starts with a great villain…My sistah @ priyankachopra is one of the biggest and most beloved stars in the world.
When I asked har how she felt about playing opposite me as our #Baywatch villainshe simply said with sly and seductively smile,"Oh you are going down…" Cool is the rule,but sometime bad is bad.Thankyou PC for the strong work week and see you on the rebound in GA #GoodLord!GotMyHandsfull#ChopraDon'tPlay#BAYWATCH SUMMER 2017." This clearly shows that PC has managed to impressed even her costar .
The movie `Baywatch' is schedule to release on 19 may, 2017.
More Searching Terms:
Priyanka Chopra Baywatch Images Free Download