Akshay Kumar Thrilled with CBSE's Move to Introduce Self-Defence Training for Girls
Akshay Kumar is very elated to hear about Central Board of Secondary Education (CBSE)'s decision to include self-defence training for girls in its affiliated schools. CBSE has already issued directives to schools regarding this training. Girl students will be provided self-defence training for 45 minutes every day. Here you may watch Akshay Kumar's martial arts techniques and training video.
Akshay Kumar Self Defence Class with Girls
The actor is overwhelmed by this decision and feels as a dream come true. He firmly believes that the times that we live in, self-defence has become an essential skill for girls and it must be made compulsory in every school. He congratulates the CBSE Chairman for being considerate to the need of the time.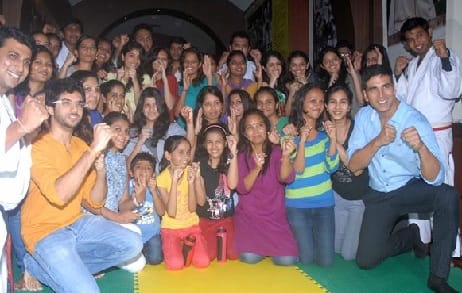 Akshay Kumar is a trained martial artist himself who had started practicing the art when he was around eight or nine years old. He runs a martial arts school for women in suburban Mumbai. Already seven thousand girls have graduated from his school with increasing number of girls joining the school every year.
Some blind students have attended the training and they feel stronger and far more self-reliant. Though with his busy film schedule he can't visit the school regularly, he makes sure that he remains present on the graduation day.
Akshay Kumar thinks "Self-defence is important for one's safety" and wants to continually promote it diligently till it is implemented everywhere. He had requested earlier Prime Minister Narendra Modi to include self-defence program for girls in every school. When he was asked whether he would like to impart the self-defence training to his 4-year daughter Nitara, he affirms it with a smile.
More Searching Terms:
Akshay Kumar Self Defence Classes/ Martial Arts Academy
Akshay Training in Martial Arts Video