Priyanka Chopra's White Strapless Naked Dress Oscar 2016
Priyanka Chopra has represented India, internationally, the number of times. Every time, she has brought fame for herself and for her country India too. This time, again she has done it. 2016 Oscars were held at Dolby theatres, LA. This year Oscar has become special for Indians as Priyanka Chopra walked the red carpet of Oscars and presented an award too. She has become second Indian presenter at Oscars after Persis Khambata. Here you may check their hot dresses photos.
Priyanka opted white strapless naked dress designed by Lebanese designer Zuhair Murad. The gown had delicate detailing. The understated makeup and hair with a subtle pony at the beach and middle partition complimented the dress further. She was praised for her look by international media too.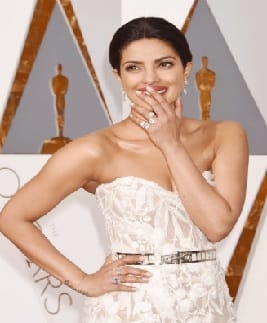 Priyanka further added glamour by wearing precious jewellery. She wore 50 carat diamond front back earrings costing around $3.2 million. On her finger, she wore 22 carat diamond ring worth $3.4 million and a 10 carat diamond pinky ring worth $850,000 as well as 8 carat diamond bypass ring costing $300,000.
Priyanka Chopra presented the Oscars for best film editing category to editor Margart Sixel for "Mad Max Fury Road" along with Liev Schreiber.George Miller's directed "Mad Max Fury Road" was competing with `The Big Short',`The Revenant',`Star Wars The Force Awakens' and `Spot light'.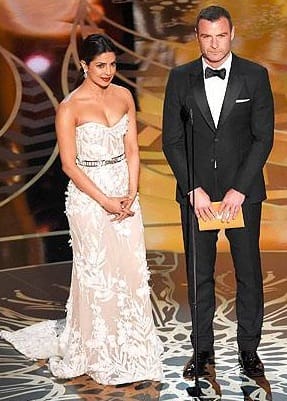 Priyanka looked extremely confident and stunning in the event. Her daring choice of clothes was reflected in the energy on the red carpet.
More Searching Terms:
Priyanka Chopra Dresses Photos Oscars 2016