SpiceJet Launches Anniversary Sale Offer: One-Way Fare to Start at Rs 511
Budget airline SpiceJet on Tuesday has introduced one-way fares as low as Rs 511 for domestic flights and Rs 2,111 for international flights. The three day sale launched is a part of its 11th anniversary offer and the offer will remain open till midnight, 19th May.
The offer excludes taxes and other fees and passengers will have to pay additional charges. It is applicable for domestic travel period 15 June 2016 to 30.
The special fare offer applies to select routes and covers popular routes on domestic flights such as Dehradun, Bagdogra, Udaipur, Jaipur, Goa, Port Blair, Kochi etc. For overseas routes, it includes Dubai & Muscat, Bangkok, Colombo etc.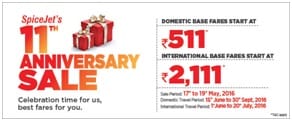 Usually airlines typically announce promotional offers for travel during the June to September period as it is considered a slack season for the travel industry. Discount offers attract travellers and help airlines increase intake.
The unbelievable fares on flights have created airfare war and immediately after the announcement from spicejet, some other air careers also introduced promotional offers. IndiGo dropped one-way fares considerably with Rs 800 on routes such as Jammu-Srinagar, Srinagar-Chandigarh, and Rs 924 for Goa-Mumbai and Rs 1,050 for Ahmedabad-Mumbai. The offers are valid for travel period from July 4 – September 30. AirAsia announced a 50% discount on return flights booked till Wednesday.
Most Searching Terms:
www.spicejet.com Mega Sale/ Scheme
Spicejet Flight Booking Anniversary Sale Offer