Will NGT allow

Sri

Sri's mega Yamuna event? 10 things you must know

To celebrate the completion of 35 years, Art of Living Foundation headed by Sri Sri Ravishankar has organized a mega event on the Yamuna floodplains at Delhi. Many people searching for the world culture festival 2016 registration/ tickets. A controversy has been raised as Yamuna activist has challenged it that it will harm the environment. A petition for the cancellation of the festival has been filed in the National Green Tribunal (NGT). Hearing of the case was on Tuesday and it will continue on Wednesday.

The Cultural Festival is organized to demonstrate the power of unity, peace, humanity and togetherness. It also provides a platform to diverse global culture, music and art to celebrate and find uniqueness in diversity.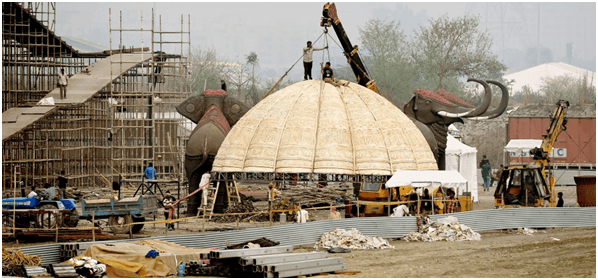 The world cultural festival 2016 art of living venue is Yamuna flood plains at Delhi.
Confluence of Cultures 2016 Video from Art of Living
There are very interesting facts you would like to know about the event.
The three-day event is known as 'World Cultural Festival" is to be held on 11-13 March. Sri Sri Ravishankar has millions of followers all over the world and the event is to be attended by about 35 lakh people.
The festival site covers about 1,000 acres of land. Preparations are going on in full-fledged. A grand stage of 7 acre, tents, barricades, pontoon bridges is being constructed.
Yamuna activist Manoj Misra argues that illegal and unauthorized dumping and construction in the active plains of Yamuna and upstream of DND flyway violates environment norms.
To level the ground of plain in order to make sitting arrangements, bulldozers have been used. To cut roads through farmers were asked to clear the fields and crops have been affected.
NGT has appointed an inquiry panel and according to the report, natural vegetation has been removed and floodplains have been destroyed. It has suggested that scrapping of the event is too late and proposed a fine of Rs 120 Crore.
According to the Art of Living Spokesperson, they have already sought permissions from the authorities and they are using the eco-friendly material for constructions with a view to not harm the environment.
Delhi Tourism Minister doesn't see any problem in organising such an event near the Yamuna. Moreover, it will make the people aware of the river.
NGT had last year prohibited construction work on the flood plains of Yamuna as it disturbs river ecology.
President Pranab Mukherjee was to attend the valedictory function and deliver a valedictory speech. But due to the controversy, he has decided to stay away from it.
There is a shift in venue campaign started by the activist and people can sign an online petition at change.org that is addressed to Prime Minister Narendra Modi, Delhi Chief Minister Arvind Kejriwal, Chief Justice of Supreme Court of India, Chair Person of National Green Tribunal Chairperson and Art of Living founder Sri Sri Ravishankar. It has gained momentum and about 12,000 people have already signed it by Tuesday morning.
More Searching Terms:
World cultural festival 2016 art of living venue
The world culture festival art of living
World culture festival 2016 registration/ tickets