Kanye West launched T.L.O.P. Album and Yeezy Season 3 at Madison Square
Kanye West has launched his new album `The Life Of Pablo' (T.L.O.P.) along with Yeezy fashion line season 3 in an event held at madison square. For others launching these two together and that's too at madison square is atypical but not for Kanye. Kanye partnership with Tidal to live stream the show. Now we can Download 'The Life Of Pablo', Seventh Solo LP Music Album of Kanye West.
Recently Rihanna for ANTI and Beyonce for Formation too used Tidal for their launches respectively. All could see the show on Tidal's homepage, subscribers as well as non-subscriber. But soon after the show started Tidal live stream almost incapacitated under the high traffic from Kanye's fans.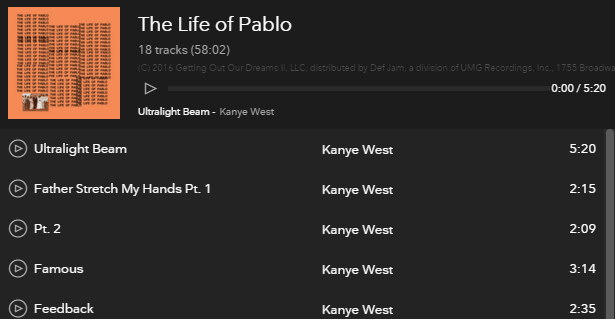 The show was quite confusing for audiences inside as well as outside the Madison square. The show was also shown in some theaters. It was one of the most bizarre Kanye's events. At one point Kanye sang a song all about Kanye. He then praised Adidas who has helped in producing the Yeezy 3 fashion line. He also spoke some sharp words foe, Nike.
Suddenly Kanye took a break from music and played trailer of the video game named `Only One'. He added that the game is about his late mother travelling through the gates of heaven. The live stream did not work properly so one outside Madison square cannot comment on the music but according to people inside the Madison square the music was more gospel as compared to early albums. T.L.O.P also has a song whose lyrics boost how great is Kanye.
According to reports, Kanye had given some strict instructions to the model displaying the Yeezy season three as he wants that people take the fashion more seriously. According to few twitter accounts, people told that models did exactly what was told during the entire two-hour show.
In simple words, the two hours event had music, fashion, ego and more ego.In Saturday night fever Kanye's announced that the album`The Life Of Pablo' will exclusively stream through Tidal and will sell exclusively through Kanye's official website for one week after which it will be widely released. T.L.O.P is Kanye's seventh solo LP.
As per latest updates, the album 'The Life Of Pablo' can be downloaded from kanyewest.tidal.com but Kanye's own website is still malfunctioning.